Pacific Palms Resort, City of Industry, CA USA
The City of Industry
Category: Hotel, In-Room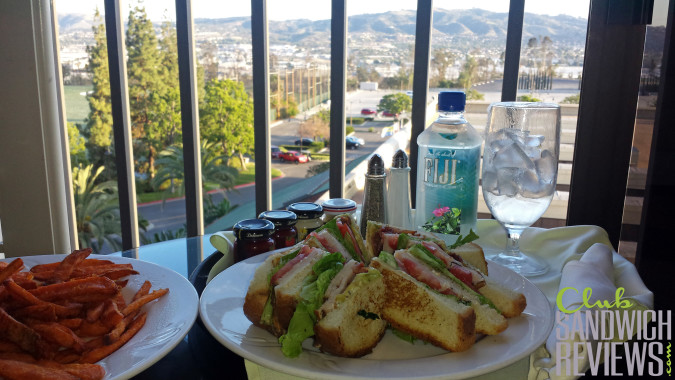 Ordered at the Pacific Palms Resort in lovely City of Industry, California.
City of Industry… the name doesn't really have that beautiful ring to it. In fact, when I told a business partner I was heading there after a meeting in Orange County, he asked if I was visiting a friend who had been "locked up." I knew he was being sarcastic, but it didn't really paint a nice portrait for the area.
With that said, when I saw that the conference I was speaking at (and thus the hotel I was staying at) was the Pacific Palms Resort, I ignored the hearsay and was excited for my first night of a three-day-long business trip.
A truly busy day driving for hours around greater Los Angeles had left me tired. Traffic, traffic, and more traffic. I felt blessed that a friend of mine had recommended renting a car through Silver Car, 40% discount included with recommendation, and at least I was comfortable spending nearly 4 hours driving from meeting to meeting. If I lived in LA and had to commute hours every day, I'd probably invest in a nicer car than the one I have at home.
But back to the Pacific Palms Resort… it felt like an oasis in a city that no one liked to compliment. A sense of calm enveloped me as I ordered my club sandwich and watched the sunset over the driving range and mountains; it was a pretty view. I was stoked to have my first real meal of the day and relax before bedtime and my hour long presentation on Chinese Tourism to the California Hotel and Lodging Association waiting for me first thing the next morning.
It only took 10 minutes for the Pacific Palms Resort's "Triple Decker" Club Sandwich to arrive. Very fast! I had chosen the side of sweet potato fries – and they did not hold back. A full extra plate of them arrived, almost as large as my sandwich. Did I need that much? Who needs that much?
As I unveiled the main dish from under the silver cover it came in, I understood the meaning of separating the side from the entrée: the Pacific Palms Resort Triple Decker Club Sandwich took up nearly the entire plate, there was no room for a side dish. This was a thick, nicely layered club; a sizable portion that I knew I wouldn't be able to finish.
But did I want to finish it? The overall taste of this club sandwich didn't really excite me, and I finishing this meal wasn't a top priority of mine. Halfway between cold and warm, I couldn't tell if this club sandwich was meant to be served hot or room temperature. Different ingredients were at different degrees.
I would call this the standard BLAT club in true triple decker format. The lettuce leafy that was there for presence more than flavor, the almost ripe tomato that added some moisture to it, and the avocado nicely layered in (I was beginning to wonder if I would ever see a club sandwich at a hotel in California that didn't have avocado), there was no center ingredient for this club sandwich. But it honestly didn't need one. The bacon and turkey jived together, and overall it was simply a nice sandwich, but nothing to call home amount. I was satisfied, but mainly because I wasn't overly hungry. Mezza mezza all around.
If I was staying at the Pacific Palms Resort another night, I would not order this club sandwich. But thankfully, I wasn't, and after my presentation I was off to more meetings downtown and a two nights in Santa Monica…
Location