Red Line Cafe, Salem, MA USA
Club Witch Hunt
Category: Cafe, Ind. Est.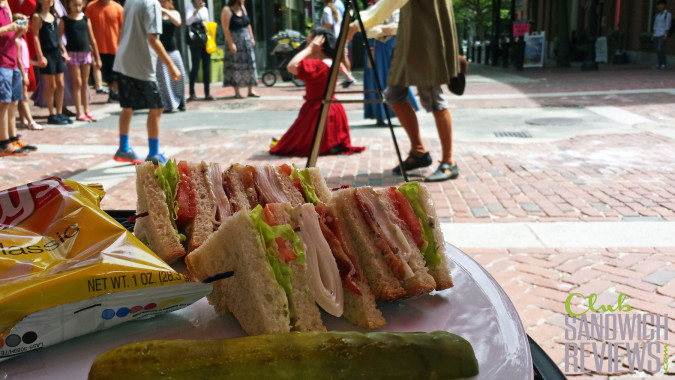 Ordered during a mob claiming to have found a witch at Red Line Cafe in Salem, Massachusetts.
"My phone says it's going to rain," Rachel told me upon getting out of bed. The day started with an ominous weather forecast, but I was determined to ignore it… after all, it was one of our only weekends home all summer, and I wanted to take full advantage of the warm weather and a Sunday without plans.
"My phone still says it's going to rain," Rachel told me as I began researching destinations.
We were originally planning a trip to Dartmouth and Westport, about an hour south of Boston, but Rachel's phone brought her hesitation. Me? Not so much – I was determined to spend today being a tourist in Massachusetts.
I changed plans in preparation for inclement weather and decided to go north and visit Marblehead and Salem, and see where that took me. Rachel, on the other hand, decided it would be better to stay home and avoid the rain… something I refused to let happen. And so I dragged Rachel out of the apartment and into the car, off to our first stop: Marblehead.
What a cute town. Our first stop was at The Crazy Candy Lady, where we stocked  up on Norman Love chocolate – YUM! Then, back to exploring. Half of Marblehead was gorgeous houses with beautifully landscaped entrances and ocean views. The other half was full of houses seemingly built on top of each other from the 1700's and 1800's. Very cool! A taste of New England history.
But a taste was enough. And as the sun began to come out, Rachel and I were high spirits, and we decided to head to Salem, a 15 minute drive away according to Google Maps. What would we do there? I hadn't been to Salem in 10+ years, so I wasn't too worried – it would be fun taking a quick tour of the town.
Salem is a true tourist destination. I knew of the witch trials and the town's allure during the days around Halloween, but I had no idea the show went on year round. We parked our car and went for a stroll down the walking streets of Salem. Tourists everywhere. Chinese tourists. European tourists. American tourists. Families, couples, large groups… we were blown away by how many tourists were walking around with us.
We decided to stop at a café with outdoor seating and grab lunch, just as blueness was taking over the sky. The Red Line Café had a menu that delivered, including the self-branded RL Club, and we sat outside waiting for our meals to arrive.
Moments after sitting outside, our food arrived, but before our first bite, a scene erupted in the street. "Hang her!!" we heard someone yell in the distance. "Off with her!!" echoed down the streets, along with chants that kept getting louder and louder.
It didn't take long until the mob had successfully dragged a woman down the street, proclaiming her to be a witch right in front of our table. A fun way to experience lunch!
The RL Club was a standard no thrills club sandwich. I was given the choice of turkey or roast beef, and went with the turkey. Turkey wasn't too flavorful, neither was the bacon; they were both average ingredients. Lettuce and tomato were average produce. The country white bread was bread, slightly fluffy, nothing special. This club was a totally average sandwich, which didn't disappointment me, but definitely did nothing to add to the moment.
I enjoyed the show more than the sandwich, and after the mob carried on to the courthouse, Rachel and I picked up our things and continued to explore. I recommend the Red Line café for a quick bite and/or drink while exploring Salem as a tourist (and apparently their crepes are fantastic), but not sure I'd go back for the RL Club.
Location