Thiripyitsaya Sanctuary Resort, Bagan, Myanmar
Triple Decker Sanctuary
Category: Hotel, Restaurant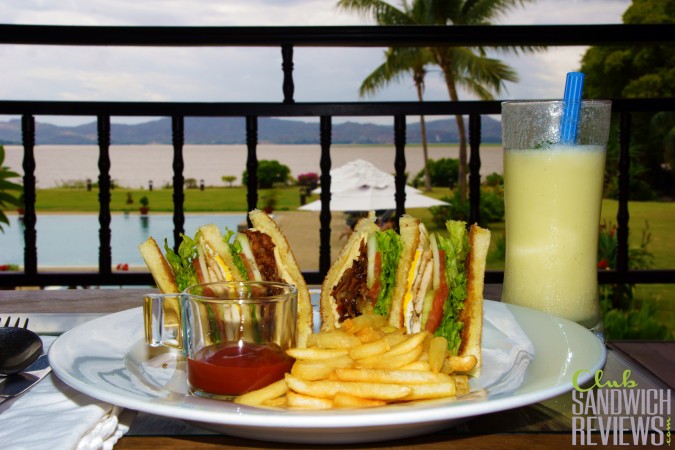 Ordered at Thiripyitsaya Sanctuary Resort on the banks of the Irrawaddy river, in Bagan, Myanmar (Burma).
Honestly, I wasn't too hungry. And it was impossible to imagine being more relaxed than I was. But the scene just begged for a club sandwich.
(Side Note: please see my previous club sandwich at The Strand Hotel in Yangon, prior to arriving in Bagan. 8 flights in 7 days…)
We had time to visit one destination in addition to Yangon while in Myanmar. It was a difficult choice to make, and one that required ample research (although we had limited time). All signs pointed to Bagan, but with only 30 hours to enjoy this destination, I wanted to ensure we would maximize our fun. Rachel's lack of help planning left me searching for answers among my friends, who all had different suggestions.
I settled upon Oedipus and Amy's advice of booking a tour guide and staying at the Bagan Thiripyitsaya Sanctuary Resort. Credit cards aren't really accepted in Myanmar, and cash only taken if crisp and new, so booking the entire trip prior to arriving sounded like blessing. Of course, Oedipus and Amy referred me to a travel agent in Bangkok, and just a few days prior to leaving for Yangon I was wiring money to a random bank account in Thailand, praying everything would work out.
Flying domestic in Myanmar is like taking a bus. Hop on hop off. Easy in some respects, scary and anxiety-inducing in others. But soon we were in Bagan!
Bagan was INCREDIBLE. We were blown away with how magical of a destination it was. Over 2200 temples and pagodas line the hills of Bagan, many of which you can enter and even climb to the top. Each temple and pagoda was unique, which made exploring them a fantastic way to spend the day. Club Sandwich and our hotel/resort aside, Bagan is an enchanting destination I hope everyone is able to see one day; a very special place. And this didn't stop when we checked into our hotel.
Situated on the banks of the Irrawaddy river, the Thiripyitsaya Sanctuary Resort was, simply put, as magical as Bagan. Jet lag crushing us, Rachel and I decided to head to the bar for food and smoothies during a mid-day break from sightseeing.
I wasn't hungry, really, as we had just come from a local restaurant that felt like a cross between chipotle and Burmese food (yum!) but the scene just screamed ultimate relaxation, and how could I relax knowing there was a club sandwich on the menu that I wasn't enjoying?
We sipped our drinks – Rachel had a watermelon and lime juice, and I a mango banana smoothie – and took in the scene. How lucky are we? We reveled in the moment, breathing the fresh air, reflecting on our experience, until our food arrived.
Rachel ate her go to: Mohinga. And my club sandwich arrived in style. The menu had only listed chicken, bacon, egg, and cheese, with a third slice, but, as suspected, there was the standard produce: lettuce and tomato.
The ambiance couldn't have been more perfect. "Pinch me," I remember telling Rachel. But as I reviewed the club sandwich, I did my best to not be distracted by the perfect setting.
Loads of bacon. But unlike my previous club in Yangon, this bacon was simply flavorless. Turkey was flat and dry. Egg was decent, bread was decent, produce was decent… I didn't have a lot of other positive things to say about this club, but then again, who would order a club sandwich while traveling in Bagan? This guy! So I was satisfied, but it might have been because I had just come from lunch, and wasn't depending on this triple decker club sandwich to fill me up.
The Thiripyitsaya Sanctuary Resort did have amazing Burmese food though, which Rachel and I enjoyed during our 30 hour stay. The best? Perhaps their smoked tenderloin… it was mind-blowing.
Location