Naked, Charles de Gaulle Airport, Paris, France
Naked Letdown
Category: Airport, Cafe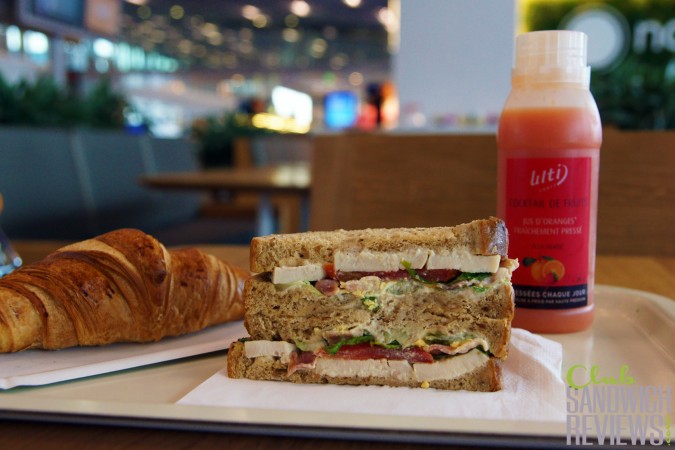 Ordered at Naked a cafe in the M gates section of Terminal 2E.
When I was told my connecting flight from Paris to Boston was cancelled, I suppose I wasn't overly concerned. The news came to me as I transferred in Bangkok. My 8th flight in 7 days, I was happy this came at the end of my trip.
The Air France transfer desk in Paris put me up at the Ibis hotel in terminal 3, which reminded me of my college dorm, without the college students… my room brought me flashbacks of Castle Leazes in Newcastle.  I debated going into Paris for the evening, but knowing I would be back here for my honeymoon in 2 months, combined with the fact I had just spent a considerable amount of money on the trip of a lifetime to Myanmar, I just didn't have the urge.
And so I did some work, had a burger, went to bed, and was back in terminal 2E almost as soon as I had left it. I was not a fan of the Ibis's free continental breakfast, so upon entering the M gates section of 2E, I was hungry.
Charles de Gaulle International Airport has by far some of the best airport food in the world. I knew this having flown through here before. Amazing salads. Amazing baguettes. Amazing juices and coffees. But an amazing club sandwich? Could I find one? Searches on previous trips had yielded nothing…
Enter Naked, an airport cafe boasting "simple honest food" situated near gate M45, just past the high end designer shops overflowing with Chinese tourists. With a beautiful offering of salads, I almost missed their Bloomer Club Sandwich at the bottom of the shelf. All I wanted to do prior to my flight was relax, and voila, relaxation was on the menu.
I grabbed the Bloomer Club, a strawberry and orange fruit cocktail, and was handed a croissant. 20 minutes before boarding, time to dine.
The Naked Bloomer Club (which in retrospect sounds more like a strip club than a club sandwich) was below Paris CDG standards. Soft, a bit mushy, with muted flavors and dull taste, I could tell the ingredients were fresh, but the sandwich overall was simply boring.
The bloomer bread it came on felt like the main culprit, although the chicken and egg did not help its cause. The bacon reminded me of British-style to-go sandwich bacon… I've eaten enough of those that it brought back memories of convenience store food. The two pieces of lettuce added nothing, but at least the tomato was ripe and juicy.
The croissant was flaky and lovely, but I had become spoiled at The Strand Hotel in Yangon with their freshly baked offerings, that this just didn't do it for me… below my personal standards.
My cocktail de fruits, complete with orange and strawberry, was absolutely delightful. An incredibly flavorful juice, every sip brought a smile to my face, and I spent my last few minutes before boarding finishing this drink and answering questions for an airport survey.
Location