Renoir, Sofitel, Montreal, CA
Bachelor Club
Category: Hotel, Restaurant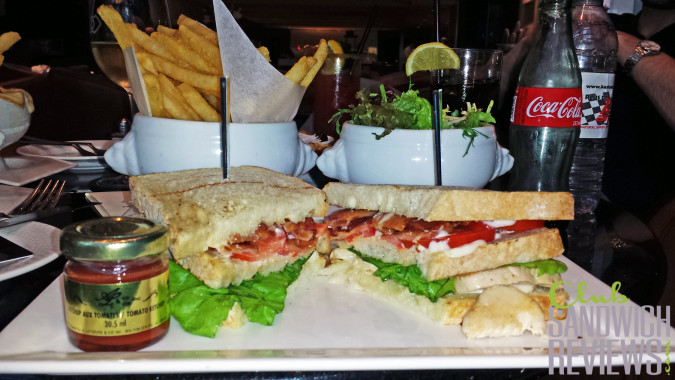 Ordered at Renoir, a fine restaurant in the lobby of the Sofitel Hotel in Montreal, Quebec.
Montreal for my bachelor weekend. What happened here, stays here, except for this review of the club sandwich from Renoir, the restaurant at the Sofitel, our hotel of choice in Quebec…
… And I needed a good one after our Friday night of debauchery with 10 of my closest friends, most of whom had never met each other… worlds colliding, and it all worked out, flawlessly.
Sure, the sandwich from Schwartz's earlier did the trick to recover from the night before, but I needed a solid club sandwich to power through Saturday afternoon and into the evening.
Stumbling into the Sofitel hotel lobby after F1 Go Kart Racing, I prayed Renoir had a club sandwich fit for a bachelor. A few of my friends prayed they had a good bloody marry (or bloody Caesar, I should clarify).
Prayers were answered, and soon we were sitting by the bar at Renoir, drinks in hand a food before us. Their club sandwich – now my club sandwich – had an interesting presentation. Complete with "country bread," the sandwich's appearance didn't match the care that had been given to the plating of the meal. It looked a bit sloppy, and unappetizing.
But looks aside, this club sandwich was the solid meal I craved, and perfectly filling. Meaty bacon. Lovely, moist white chicken breast. A single , strikingly red, sort of ripe, tomato, barely adding anything, and lettuce, simply adding color. I just wished it all wasn't smothered in mayonnaise.
Loved the Sofitel. Loved Renoir. Didn't fall in love with their Chicken Club Sandwich. But either way, I was a happy camper. Thank you Montreal and my friends for providing me an excellent bachelor weekend.  Looking forward to the wedding! And plenty of club sandwiches on the honeymoon…
Location