Sweetwater Tavern and Grille, Chicago, IL USA
Bread for Lunch
Category: Ind. Est., Rest.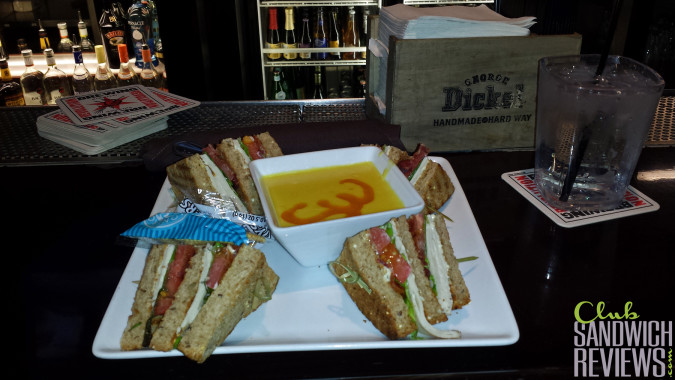 Ordered at the Sweetwater Tavern and Grille, a restaurant and bar in downtown Chicago.
I couldn't tell if I was in a sports bar or businessman's power lunch spot. I suppose I liked the vibe. TVs everywhere, patrons on their laptops, people discussing business over the load music. The atmosphere told me I should have a beer in my hand, rather than my water, but alas, meetings all day prevented that… in a good way!
I found the Sweetwater Tavern and Grille in downtown Chicago by simply searching Google Maps for restaurants near our next meeting. Great reviews, so I was easily sold. Chicago appears to be a city full of superb dining options, though, so I had confidence that any destination we chose would fit our appetite.
After extensive travel and presenting to 60+ people during a morning event, with meetings throughout the day, relaxation was the only thing I wanted during lunchtime. Thank goodness the Sweetwater Tavern and Grille had a club sandwich; this was all I needed.
The bartender was extremely nice, asking us if this was our first time and if we'd like to know about any of their offerings. I was excited by their lengthy list of sides, and decided to go with the sweet corn bisque as I ordered my club sandwich. Cold wind had entered Chicago, and thus, a nice warm soup to go along with my club sounded perfect.
The Sweetwater Tavern and Grille Turkey Club Sandwich had an emphasis on the bread, unfortunately. What this club had in quality, it lacked in quantity. A thin amount of moist oven roasted turkey. A slice of leafy lettuce with a tiny beefsteak tomato nestled against it. Little pieces of bacon. An appropriately light amount of Dijon sage aioli. And lots of multigrain bread. So much, that my plate was littered with bread after feasting on this meal. An unfortunately high-carb meal, but a tasty one if you just ate the tips of each wedge.
The sweet corn bisque was awesome. The perfect side for a cold Chicago day. I could have eaten a giant bowl of it, but personally felt it did not need whatever oil was poured onto it.
I would recommend their club sandwich to future diners already going to the Sweetwater Tavern and Grille (not as a reason to go), as it all tasted good, however when you do order, ask them not to be stingy on the ingredients, and if need be, remove the center piece of bread. Perhaps next time I go they'll correct this, and serve me a real meal…
Location