St. Regis Mauritius Resort, Le Morne, Mauritius
Bread by the Beach
Category: By The Pool, Hotel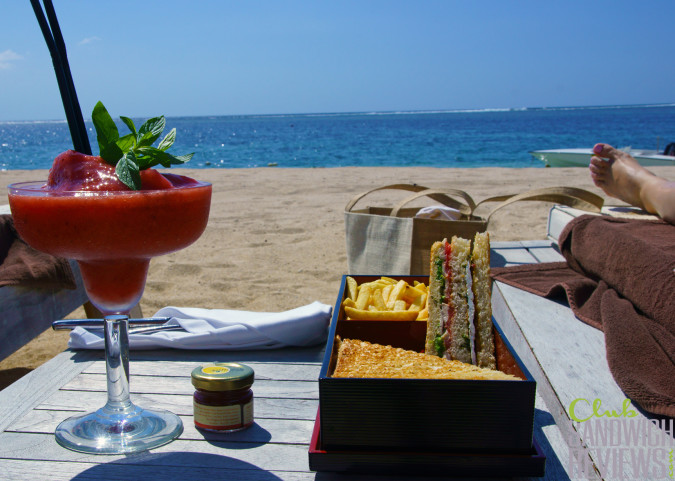 Ordered at the St Regis Mauritius Resort, an incredible property located on Le Morne Peninsula on this island country.
The pinnacle of perfection. I expected nothing but the best.
Mauritius – it's one of those destinations you hear about but never actually visit… at least for most Americans. Our sights were set on this island country for nearly a year as we researched beach destinations for our honeymoon. We actually chose Paris (previous destination) because we had to connect via either the City of Light or Dubai to get to Mauritius, and Dubai, where kissing in public is illegal, didn't really seem like a romantic getaway.
12 hours on Air Mauritius from Paris. Interesting airline… wouldn't recommend, but of course, there's no other option from France. Arriving at their brand new international airport, we went through three Ebola checks before hopping on our helicopter transfer. Easy. But I pitied those traveling with a stamp from an African country on their passport… keeping the disease out was no laughing matter for Mauritius.
We booked the famous St Regis Mauritius Resort for our 4 day trip. The property was at 30% occupancy, we were told upon check-in, and as such, were upgraded to a massive beachside bungalow.
Top notch facilities.
Perched on the tip of Le Morne peninsula, right on the beach below an iconic mountain, the St. Regis Mauritius Resort is meant to be pure excellence. Newly renovated, it has everything the affluent traveler would want… well, almost everything (which we'll get to in a moment).
Our room came with a butler. Not the typical hotel amenity. The concept is great and they are often useful (I recall my brother needing a tie while we were staying at the Alvear Palace, a request our butler fulfilled with four options), however during this experience we found the butler… inhibiting.
Every request went through the butler. Want a reservation at one of the many restaurants on-property? You'll have to ask your butler… but your butler doesn't know the availability of each dining establishment, and since you can't call directly, your butler will get back to you after speaking with the restaurant. Want to order that specific glass of wine from room service? Your butler will call to ensure they have it, and if they don't, the butler will call you back to take another selection. Would it be easier to simply call room service yourself? Yes, it would be. Availability  or services at the spa? The butler doesn't know, but they'll ask the questions for you. While our butler was extremely nice, she stood in between us and many of our requests during the stay.  She had no answers, only direct access to those who did.
With six restaurants located on-property, we had our choice of many different cuisines. Great looking menus at all. The world-famous St Regis Mauritius. True opulence. We looked forward to being spoiled. And we expected nothing but the best.
Unfortunately, "the best" was an ingredient missing in every dish prepared by the resort.
Our first night dining on-property – our only night – we ordered from three different restaurants and were left disappointed (appetizers from one, entrees from another, dessert from the third). Nothing was worth writing home about, and nothing felt like it came from the sea set before us or the island around us.
Where was the fresh cuisine that should be ever-present on this island? We wanted our dinner to be hanging from a tree or eating breakfast the morning before, but this didn't seem to exist at the St Regis Mauritius.
We ended up hiring a taxi to take us to restaurants off-site the following days… with fantastic results. Fresh crab and lobster, shrimp, fish… daily-caught seafood that required almost no sauces or seasoning. The best food in Mauritius is found outside of the St Regis at much lower prices. Mauritius is an incredible melting pot of east meets west. There is a strong influence of Indian, French, Chinese, and Dutch cultures. And this is ever-present in their culinary creations. We were treated to the most delicious seafood one could imagine, but sadly, couldn't charge any of it to our room.
Nevertheless, I was still quite enthused to try their club sandwich. Teeming with excitement, really. I knew this was their chance to shine. I knew so much attention to detail must have been put into this dish that is served at every St Regis property. I was already convinced this was going to be the highlight of the stay. Lounging by the beach, virgin strawberry daiquiri in hand, there was nothing stopping the conviction in my heart that shouted "get ready to be WOW'd!"
I expected nothing but the best.
I was delivered nothing but disappointment.
It's true, sometimes one hypes something so much that no matter what is delivered, it will automatically be somewhat of a letdown (such as the time I saw Book of Mormon)… but unfortunately, anyone would have found the St Regis Mauritius Club Sandwich a true failure.
Three thick slices of toasted white bread, the club sandwich at the St Regis Mauritius leaves very little room for the remaining ingredients. I have no idea how they flattened an egg so thin. A meager piece of chicken. Barely any bacon. One lettuce leaf. And a sliver of tomato. Where was the substance to this club?
The ingredients were all decent – nothing spectacular, and nothing that felt local – but just look at the photo… in no way does this meal match the magnificence of Mauritius's finest resort. It was a sandwich for the carbo-junkie, not the affluent traveler.
How did this pass inspection? Where was the pride? Surely they considered more than the presentation during the creation of their club?
A resort fit for a king – a meal fit for… people who liked toasted bread.
The food at the St Regis Mauritius Resort does not live up to the impeccable grandeur the property exudes. We spoke with other guests at the resort during our stay who all confirmed this… which is a true shame, really. Especially for those on the meal plan who appeared envious of our less-expensive off-property excursions.
I really hope the St Regis Mauritius Resort re-evaluates their dining experiences. The property is truly incredible, from the facilities, to the location, to the service, and we would go back in a heartbeat… but the food, including the ingredients and preparation, need to be totally revamped, especially for a world-class property like this.
Location