Sir Seewoosagur Ramgoolam International Airport, Mauritius
Plated with Pride
Category: Airport, Cafe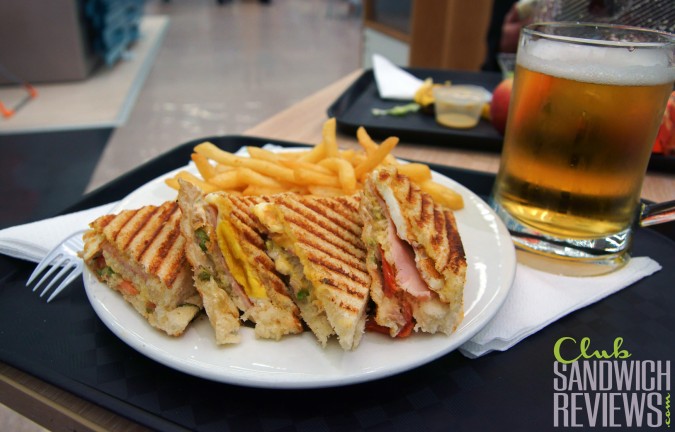 Ordered at the departure gates of the Sir Seewoosagur Ramgoolam International Airport in Mauritius.
Usually if a club sandwich is this bad, they don't serve it. But in Mauritius, they plate it with pride.
There was only one restaurant at the departure gates in the newly renovated Sir Seewoosagur Ramgoolam International Airport. After a 30 minute wait while they verified our paper tickets (the first paper tickets for a plane flight I had seen in over a decade), hunger overtook us while waiting for our flight.
I thought the food at the St Regis was nothing to write home about – the dining at SSR International was a tragic comedy worth sharing with the world.
The food staring back at us in the display case emitted a sadness not found elsewhere in this island country. The plight of these pathetic looking dishes filled my eyes with tears. But the half bottle of wine in me urged my senses to dive in and not judge a book by its cover.
Wow.
Where do I begin?
Ham must have been spam. Chicken was like a chunky pate. Bread wasn't soooo bad actually… but I couldn't tell if there was a center slice, or just more mushy chicken. Lettuce and tomato tasted a few months old. The French fries were as old as the produce. I reckon the potatoes must have arrived on the same date. The egg was pure mush. And the cheese bound all of the ingredients together in a sticky, melted, sauce-like ooze.
The Phoenix draft beer – a true blessing – gave me the stamina to fully enjoy this awful, horrible, no good very bad club sandwich.
To Rachel's amazement – and disgust – I still ate the whole thing. A feat I would never ask another to attempt. And I feared what this meal would do to me during the next 12 hour flight.  Rachel, occupying the seat next to me, dreaded it more.
Location