InterContinental Hotel, Istanbul, Turkey
Efes with a Club
Category: Hotel, In-Room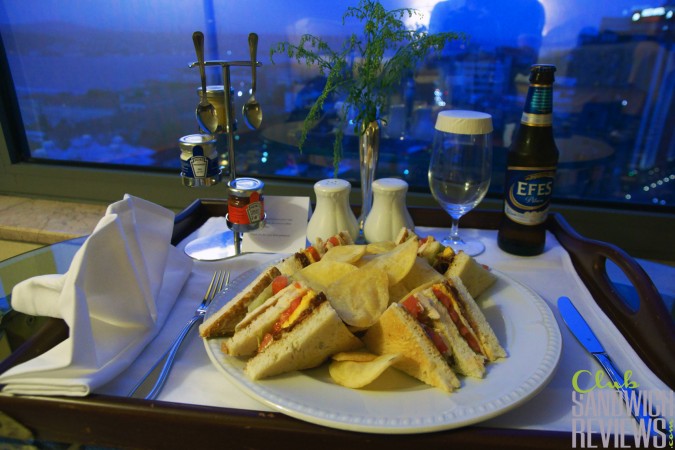 Ordered at the Intercontinental Hotel by Taksim Square in the heart of the European side of Istanbul.
Istanbul was a city I always wanted to visit. It's an incredible melting pot of east vs west cultures, be it the people, the clothing they wore, the music they listened to, the food they ate, and the lifestyle they lived… far different from what one might experience outside of the city in the rest of Turkey.
About 9 months prior to departure, I received a Marriott credit card that came with lots of bonus points. I converted those bonus points to United Airlines miles. And then I used those miles to obtain free one-way tickets for Rachel and myself from Istanbul to Boston on Turkish Airline's new non-stop flight. My IHG credit card scored us 3 free nights in Istanbul a with complimentary upgrade thanks to the Platinum Elite status one enjoys simply by having the IHG credit card.
A free trip to Istanbul as the last stop on our honeymoon… I don't like to think of myself as cheap, I like to think of myself as savvy and opportunistic.
Istanbul is a fantastic city. We stayed where Taksim began, and loved this area, full of alleys and wonderful surprises… and the best shave I've ever had.
We saw all of the main tourist sights. We compared our preconceptions with the realities we experienced. We enjoyed long walks. We enjoyed windy roads. We enjoyed both Asia and Europe. We partied in Bebek. We relaxed on the Bosphorus. We ate everything we saw. And we took advantage of all that Istanbul had to offer. Including the InterContinental's club sandwich.
As my readers know, the InterContinental Hong Kong Club Sandwich is by far one of the best I've ever had. I was expecting some brand consistency when I ordered the club in Istanbul, however I wasn't banking on it. And good thing, as otherwise my expectations would have been crushed.
Fun presentation. Seemingly all sandwiches came with the "condiment tree" topped off with two spoons… I suppose I also enjoyed the shrub they included. Tender, flavorful chunks of chicken breast sandwiched together with crisp lettuce, quasi-flavorful and underwhelming bacon, a razor thin fried egg, and light mayo… all moistened by a deliciously ripe tomato filling each bite with juicy flavor. The weakest aspect of their club was the crunchy, stale white-bread that added nothing and actually took away from the enjoyment of this club sandwich. As did the potato chips, that felt like a pathetic last minute addition, dumped on top of the sandwich.
Arriving in less than 10 minutes, they put this plate together with speed, and I enjoyed my club sandwich watching the sun set over Asia, sipping on an Efes, reveling in an incredible 10 day honeymoon that I was sad was ending tomorrow. Overall I felt this was a solid effort by InterContinental Istanbul. It lacked the grace, presentation, and side dishes of my previous InterContinental Club, but I'd still recommend it for those looking for an in room dining dinner from this specific property.
Location