Quiznos, Denver International Airport, Denver, CO USA
Vail and Back
Category: Airport, Restaurant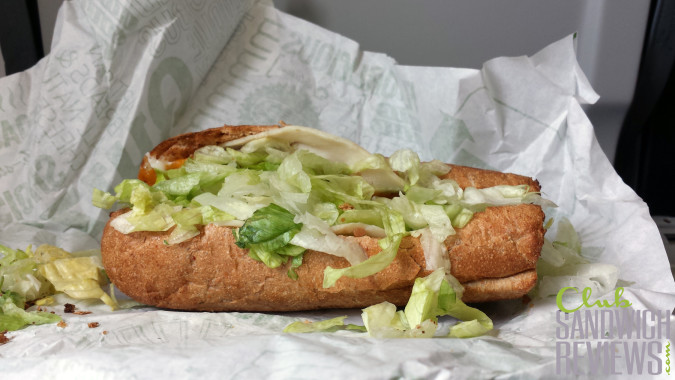 Ordered at the Quiznos in Denver International Airport.
"I have an idea. Let's go skiing this weekend. Out west."
Rachel started Monday night's dinner with an intriguing topic. It was her birthday, so I couldn't push back on what I thought was a ludicrous idea. Sure I wanted to go skiing this weekend, and sure I didn't want to ski in New England, but who books a last minute trip out west to go skiing for a day?
This couple, apparently.
We went home from dinner and began researching. We debated Utah vs Colorado, and thanks to Google integrating ski conditions with results, all signs pointed to Vail, with 80% of their runs open. But wouldn't a last minute trip to Vail be expensive? I didn't love the idea of dropping a lot of cash for such a quick trip, so the hunt was on for a deal.
Luck was on our side today, as low and behold Rachel's birthday fell on "Cyber Monday" and our searches yielded fantastic deals: 60% off Priceline rental, 40% off The Lodge at Vail (hotel right at the base of Gondola One), and direct flight to Denver nearly half the price to Salt Lake City.
Were we really going to do this? We argued… errr… debated the topic… and an hour later we were all booked. Our flight arrived into Denver at 11pm, and Rachel saying she'd do the 2 hour drive to Vail, arriving around 130am, sealed the deal for me.
Next thing I know it's Saturday and we are cruising down the slopes of one of the best mountains in America. Perfect weather. Perfect conditions. Dinner at Sweet Basil followed by a somber fire in our room… A perfect weekend getaway. It wasn't cheap, but it was worth every penny.
6am Sunday and we're packing the rental car, returning to Denver International Airport. Quick trip indeed.
Before heading back on the plane home, we wanted "to go" salads to take for the flight. The East terminal at Denver International Airport had no such offerings. In fact, their food selection was borderline pathetic. Hmpf. There was a Quiznos across from our gate, however, and having had their Ultimate Club before, I decided to try it again. Expecting something satisfactory and filling, we ordered and ran to our gate to board.
By no means is Quiznos Ultimate Turkey Club Sandwich a pretty meal. At first sight it does appear like a lettuce sub; however below those leafy greens lie a decent – some might describe as satisfactory – airport meal. Bread was the standout here. Turkey was flavorful and moist, but nothing special. Cheese was entirely flavorless. I didn't even realize there were tomatoes in there. And the bacon bits, while I could see them there, completely lacked flavor. OK, so maybe it was slightly below satisfactory… even so, compared to the other options in The East terminal at Denver International Airport, it was the only item I cared to try.
Even though there was a lack of flavor throughout every ingredient, the sandwich as a whole was… edible. I mean, I wasn't expecting anything above a C, and while my expectations weren't really met, this sandwich was better than anything the JetBlue flight we were on offered. Looking back on all the meals we had during this trip, the Quiznos Ultimate Club was second to only the breakfast sandwiches we got at Safeway on the drive back from Vail (those were awful).
Sadly, if I was back in this terminal, I might have to order it again… The West Terminal has much better selections…
Location