Starbucks, Amsterdam, Netherlands
Worst Meal of the Trip
Category: Cafe, Ind. Est.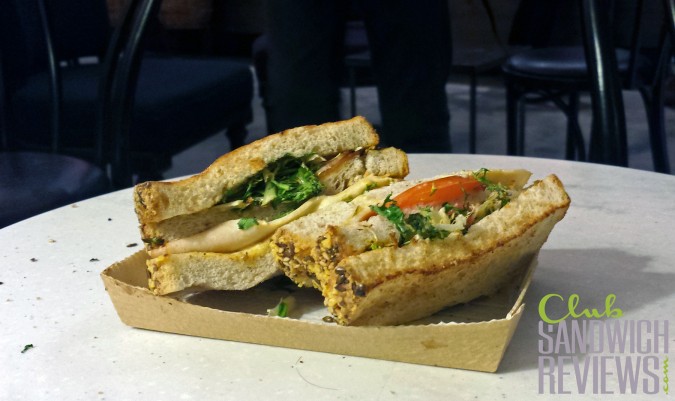 Ordered at the Starbucks in Amsterdam by Dam Square.
Weekend trip to Amsterdam… why not? Rachel was working her way through the holidays, and I was not going to sit at idle on the couch during this vacation time. 48 hours in Amsterdam… a city I've been to over a dozen times, I knew it would be a weekend full of familiar fun. There's something exciting about venturing to new destinations, but there's also something equally exciting – perhaps in a more comfort inducing way – about visiting places you know almost everything about.
But three experiences were included in our vacation to Amsterdam that were not present in previous trips: a lengthy stop at Ibericus, an over-the-top dinner at La Rive, and a club sandwich.
Ibericus… just wow. Our first day in Amsterdam was Boxing Day, and it was closed. I didn't know what I was missing, but Josh's sadness indicated there was greatness held behind their closed door and window blinds. A greatness I fell in love with the following day when we ventured back. Ibericus Amsterdam is the best collection of Spanish ham at a retail location found outside of Spain. Words cannot do justice to this ham-lovers paradise… Josh and I filled our stomachs with some of the world's finest hams, tasting all different types while learning about the caretaking and ageing process. It blew me away that their best and most expensive hams, raised to perfection over several years in southern Spain following strict guidelines, aged for 5 years under the most ideal conditions, impeccably hand-sliced by a skilled Spaniard who had relocated to Amsterdam just to ensure quality control, was cheaper than any weed you could buy in this city… it just didn't add up!
I filled my bag with enough ham to last me the weekend, and air-sealed 100grams to take home on the plane (which I ended up eating all of before arriving back to Boston). We ventured off into the city, huge smiles on our faces and chapped lips from the ounces of salty iberico we just consumed.
I shouldn't have eaten lunch. I shouldn't have eaten breakfast (although the buffet at the NH Grand Hotel Krasnapolsky – free with our room – is close to impossible to deny). I shouldn't have eaten all that ham (like that was ever going to happen). I should have starved myself for days leading up to this meal. Josh made our dinner reservation and confirmed that the restaurant was entirely full and we were lucky to have a table. I had no idea what to expect, but I hold Josh's opinion on restaurants quite high, so I was content with whatever he decided on.
La Rive was his choice. Located at the Amstel Hotel, one of InterContinental's finest properties, La Rive is a world-class dining experience. I didn't know this walking in, but it was fact walking out. Our three hour meal at this "white tablecloth" destination delivered deliciousness on a whole new level. I couldn't recommend this restaurant more… 2014 was a year of incredible meals eaten during 140,000 miles of travel (in addition to local establishments in Boston), and La Rive was close to the top of my "best of the best" list.
I knew La Rive could have delivered on the most incredible club sandwich, especially as a hotel restaurant, however it did not come out and sadly, I was too full to ask at the end. This will be explored on the next trip… but either way, I was content.
Incredible food found at nearly every stop. Yet the Starbucks Turkey Club was my worst meal during this quick trip. Hungry for a snack one of our days, a quick stop in Starbucks fit the bill for quenching my appetite. Probably my only poor decision made during our vacation… fairly tasteless, the only flavor emanating from the Starbucks Turkey Club Sandwich was, what I would describe as, "cheesy mayo." The sandwich itself completely lacked protein… the thin slice of turkey would have made the skilled professionals at Ibericus cringe, while the underwhelming bacon should have been entirely left out. The tomato and greens they included felt like an insult to the fresh produce found everywhere in Western Europe.
What was Starbucks thinking when they created this?!
I've had Starbucks club sandwiches literally around-the-world, but this one was truly awful. I couldn't even finish it… Starbucks would be the most disappointing venue we entered during our 48 hours, and while Josh claims I should have known better, perhaps I just felt Starbucks could deliver more. Their Turkey Club Sandwich felt like fast food, because it was fast food… a boring addition to our trip, and one that will never be repeated again.
Photo Gallery
Location