The Palace Hotel, San Francisco, CA USA
Princely or Proletarian?
Category: Hotel, In-Room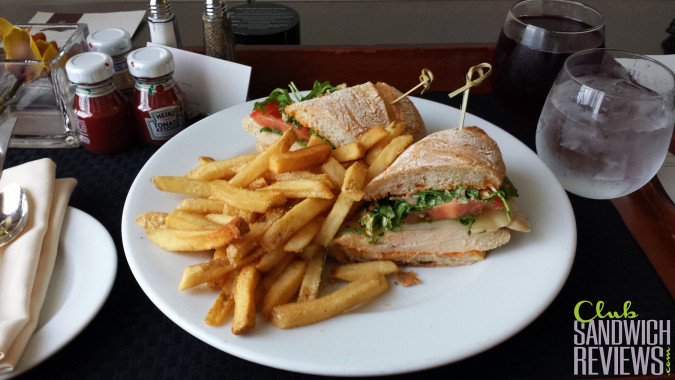 Ordered at The Palace Hotel, a Starwood Luxury Collection property by Union Square in San Francisco, California.
Grand was The Palace Hotel. If one didn't know this upon booking, the entrance and lobby said it all (after, of course, I paid $60/night for valet parking).  As I walked to my room I couldn't tell if I would be staying in an old, rundown establishment in need of a restoration, or a newly renovated grand dame of San Francisco.
It turned out to be a combination of the two.
The hotel room itself reminded me of a highly frequented once prestigious property with tired carpets, old furnishings and fixtures, a pre-HDTV entertainment setup, and a desk that had been worked on by traveling businessmen since before the invention of the laptop… fortunately, they invested in new beds, and as I laid down on the comforter to relax upon my arrival, even though I had a tremendous amount on my mind, I knew sleep would come easy tonight.
The Palace is an expensive hotel for the product it delivers. If I wasn't using SPG points to stay for free, well, I wouldn't have stayed there. Apparently they are renovating though, so my experience is less of a scar and more of a wound that will heal. With all this said, if there's one thing the hotel can pride itself on besides its excellent aesthetic appearances, it is their elevators that one never has to wait for. If I ever build a tall building, I will hire the company that put the elevators into The Palace to do mine… it might sound silly, but believe it or not, I heard several other guests also comment on this during my stay. And for those who enjoy staying in the same hotels, it's the small things that count.
And right up there with the small – yet big – things that count is a solid club sandwich on the in-room dining menu.
My club sandwich arrived in 7 minutes. Literally 7. Fastest on record for hotel room service. I was gearing up for 2 full days of working in a hotel room with a few meetings on the side, and my only two wishes were a room with a view and a delicious club sandwich that provided the comfort and energy I needed to shine.
The Palace Hotel's Chicken Club Sandwich felt like a meal dined on for decades by the same traveling businessmen who used my room's desk over the years. I was expecting something a bit more princely than proletarian, but with a presentation like this, The Palace Hotel's Club Sandwich was clearly meant for the common man.
Which was I? I'll let you be the judge of that, as I judge their club sandwich:
I wish I could have raved about their club, and while it was a good meal, I would not be ordering it again during this trip. Firstly, they forgot the apple wood smoked bacon. Major error and perhaps a side effect from delivering me my meal in 7 minutes. The chicken was a bit dry and the thick chunk of breast meat could have been layered in better. The red pepper aioli was quite nice and added a hint of welcomed flavor… although with every bite, an ample amount of aioli leaked onto the plate (and my hands). For the produce, both the tomato and arugula were nice, flavorful additions, yet both were sparsely added. The best part? This had to be the French bread. I finished the club and snacked on the French fries while looking over excel spreadsheets.
While I didn't love my time at The Palace Hotel, I liked it, and its location offered a welcomed experience after staying in a random area of Los Angeles for the previous few days. I probably won't be back again… unless there's another great offer for SPG points…
Location