Sam LaGrassa's, Boston, MA USA
Four Meat Feast
Category: Ind. Est., Rest.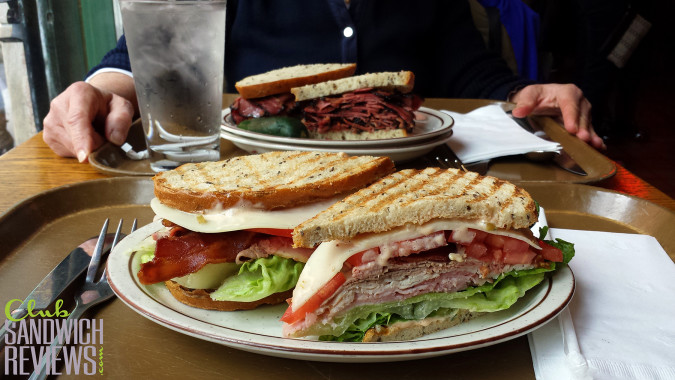 Ordered at the legendary Sam LaGrassa's in downtown Boston - self proclaimed "home of the world's #1 sandwiches."
I met my mother at 11:40am, and the place was already packed. Tourists toting luggage on their way to the airport, businessmen dawned in suits partaking in power-lunches, your stereotypical Bostonian enjoying their daily routine… Sam LaGrassa's was famous and respected among all walks of life. And why shouldn't it be? This place was great.
I had been before, but not for many, many years. Still, LaGrassa's went unchanged, and has since continued to deliver deliciousness between two slices of bread, with worldly recognition.
My mom specifically wanted me to have their club sandwich. I was quite obliged. But as we sat down with our meals in hand, I'd be lying if I said I didn't have my eyes on mom's hot pastrami sandwich. This seemed to be an item they were known for, and when my mother joked that they didn't give her enough pastrami at the cash register, they took this seriously and offered to give her more on the spot.
Four meats… and not one of them the pastrami… at first glance this appeared to be a mistake; the oven roasted turkey, honey glazed ham, and black angus roast beef, topped with apple smoked bacon, made me feel like I was eating the turdunken of club sandwiches. Each layer of protein added its own unique twist on the overall flavor of each bite, and my skepticism soon turned to squander.
From texture to taste, these meats all worked well together. Not too much and not too little of each of these layers. The turkey might have been the standout of the four, but it was hard to truly tell since each bite had a lot going with 1+1+1+1 equaling 5.
The ample tomato applied evenly across the top and the green lettuce cushioning the bottom, each mouthful was ripe with moist flavors. Russian dressing coated the perfectly toasted light rye bread, hugging the provolone cheese closely, making this sandwich a truly epic meal. Well done, Sam LaGrassa, this is the best club I've had in a while.
But again, I'd be lying if I said I didn't have my eyes on my mom's hot pastrami sandwich. I traded a quarter of my club for a half of mom's pastrami, and over-filled myself on a dish Sam LaGrassa's is famous for.
By the time we were done – around 12:30 – there was a long line out the door. Feeling guilty taking up seats, we went for a quick stroll, and while my workload was large (one of the reasons for the early meal), inside of me lurked an impatient, excited desire to write this club sandwich review.
Location