FLY Burger Bar Boutique, Hartsfield-Jackson Airport, ATL US
Mile High Club Hybrid
Category: Airport, Restaurant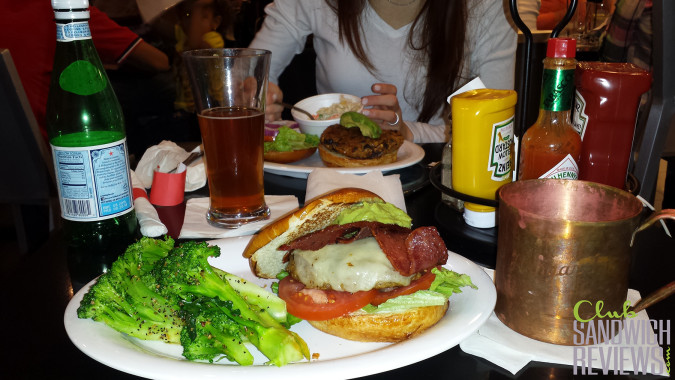 Ordered at Fly Burger Bar Boutique in Concourse B of Atlanta's Hartsfield-Jackson International Airport.
The Atlanta airport was bumpin'.  Our only stop between home and Jazzfest, dinner would be held at Hartsfield-Jackson International Airport tonight. We knew epic meals lay ahead, but already being on vacation, an epic meal was needed now.
Additionally, the food in business class on the Delta flight down was absolutely disgusting.  I couldn't believe A) they served that crap, and B) people actually ate it. Atrocious.  We were not going to depend on our second flight's fare for… anything, really, so dinner in ATL was a must.
This airport was packed! Endless hallways of people and dining options. I let Rachel take the lead and she led us to a burger joint. Not my first choice, and as Rachel isn't a big burger fan, I found her selection odd. Nevertheless, we ventured into what became a fantastic experience, unexpected for sure.
We sat down in the corner and took the scene in: families having a blast, waiters and waitresses full of smiles clearly loving their job, disco hits from the 80s creating a party atmosphere… this did not feel like a typical American airport restaurant, let alone an establishment in one of the busiest airports in the world.
How could we not order burgers and drinks with a scene like this? Rachel went for the veggie burger, and I the… Mile High Club. A hybrid burger club sandwich it appeared.
Turkey burger, turkey bacon, cheddar cheese, tomato, with guacamole and smoked mayo.  I ordered this club sandwich with a hint of skepticism… if not for my club sandwich passion, I'm not sure this list of ingredients would have attracted me. And I wondered whom it did attract. Well, I knew soon enough I would find out.
Starting at the Mile High Club lay before me I was confused. It didn't look the most appealing, but I decided to dive right in.
Mind = blown. The Mile High Club from FLY Burger Bar Boutique was fantastic. The rich, moist turkey burger, was well seasoned and full of flavor. While I don't often go for it, the crispy turkey bacon, albeit lacking that unhealthy porkyness one usually expects from bacon, complimented the flavor of the burger well. Ripe tomato, crispy lettuce, all held together by a bread that was like warm fluffy challah… yum! The guacamole was a bit too creamy, but added another flavor element that I welcomed.
In this moment I was… it was… just pure happiness. I honestly wasn't even too hungry, and I ate the whole thing. And the grilled broccoli. And some of Rachel's delicious veggie burger.
We were content as could be; a great meal! But that didn't stop me from grabbing a praline – my first – before boarding our next flight. Completely stuffed, we waited with baited breath for the excitement to come, another year at Jazzfest!
Location