Einstein Bros Bagels, Washington DC, USA
Hot in DC
Category: Cafe, Ind. Est.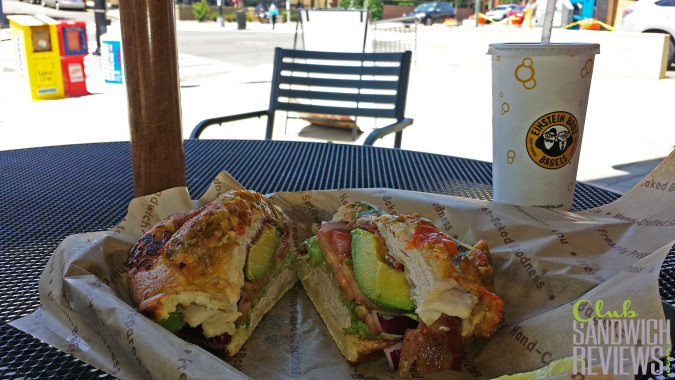 Ordered at Einstein Bros Bagels in Washington DC, adjacent to the Naval Observatory.
Cool calm and collected, with their two-year-old son Miles eating GMO-free Chipotle and their newborn resting in his bed on the kitchen table, Cory and Sarah looked like parenting pros. I was down in DC for just 24 hours to welcome baby Dylan into the world, an easy and enjoyable excursion while Rachel traveled for business in Asia.
Cory and I were tasked with shopping for what to grill tonight, but before browsing the supermarket shelves, we needed energy in the form of food.  Einstein Bagels, with an outdoor patio adjacent to Whole Foods, conveniently fit the bill and we ventured in for a high-carb lunch.
Perusing the menu, the Green Chile Club caught our attention, and it didn't take long for both of us to decide on this creative meal.  I walked in expecting the standard bagel sandwich list, but with a name like Einstein, I should have known there would be something with more ingenuity.
Gorgeous weather enveloped us as we sat outside, and I took in this glorious moment before biting into a sandwich held together by Einstein's green chili gourmet bagel. Beautiful weather always put me in the greatest mood… sometimes the best things in life are truly free.
Club sandwiches… those I usually have to pay for.
The cool creamy avocado complimented the spicy heat of the green chili, while the lettuce, tomato, and red onion all gave this club a crunchy yet juicy fresh complexion… deliciousness.  The applewood bacon added a hint of that fatty-pork flavor without overpowering the meal, while the pepper jack cheese produced a non-spicy subtle bite. The roasted turkey was nice, but got lost in the rest of the meal… I knew it was there, yet the flavor of it almost disappeared.
But that green chili gourmet bagel. What an awesome ingredient. My skepticism smashed, I became a newfound fan of Einstein's Bagels and their passion for setting the bar for creativity high. Yes I would have this club again.
Lobster and steak would be on the menu tonight, and while Cory and I were excited to grill, we spent the afternoon by the pool draped in satisfaction reminiscing of an excellent lunch.
Location