Schnipper's Quality Kitchen, New York, NY, USA
Midtown Manhattan Meal
Category: Ind. Est., Rest.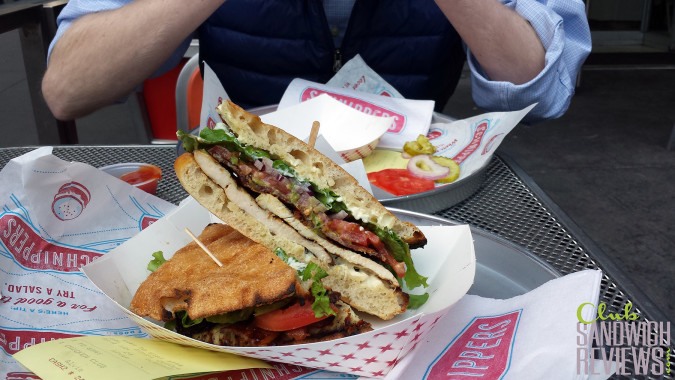 Ordered at Schnipper's Quality Kitchen in New York City - their original location.
Harry did his best to squeeze me in for a late afternoon lunch between meetings. Just having arrived from Boston, I was in New York for a board I sit on, as well as present at a conference, and lunch with an old friend sounded delicious.
We met next to his new office at Schnipper's, their original location in midtown Manhattan. Good old-fashioned American diner with a german name, Schnipper's seemed like a go to for many in the area. Harry only just began working here, but I could tell this would be ta frequented sit down or takeout spot in the coming months, with their large menu and close proximity to his office.
How could I not go for their self-branded Schnipper's Chicken Club? Rhetorical question.  Upon ordering, I decided not to substitute the chicken for their house roasted turkey (a dollar extra) and went right for their classic preparation.  It came with Schnipper sauce as well… I suppose I just had faith that this would only add to the meal.
We sat down outside and waited for our food to arrive. It was one of the first gorgeous spring days – truly well deserved coming off an unbearable winter – and we relaxed curbside catching up on life. While waiting for our meals to arrive, we gave each other updates, shared some laughs, and I learned about the corporate culture among two media industry giants from Harry's personal experience and perspective.
An ample portion of well-layered club with careful attention to the ingredients' ratio, Schnipper's chicken club presented a solid sandwich that most lunchtime lovers would be pleased with. Cripsy, hearty American bacon warmed each bite. It melded well with the guacamole, which produced a creamy tang that almost eliminated the need for Schnipper's sauce (which seemed more mayonnaisey than anything else). Tomato, onion, and lettuce added a crisp, moist juicy crunch that was absorbed by the delicious thinly sliced ciabatta. The chicken… well, a bit dry, and nothing too exciting, something told me I should have spent the extra dollar and gotten the house roasted turkey… alas, next time.
I was satisfied with my meal, although not overly content. Still, I recommended the sandwich to Harry for a future lunchtime fare. We parted ways, Harry back to his office and me back to my hotel room, both of us nice and full.
Location