Hilton Americas, Houston, TX, USA
Totally Not Tex Mex
Category: Hotel, In-Room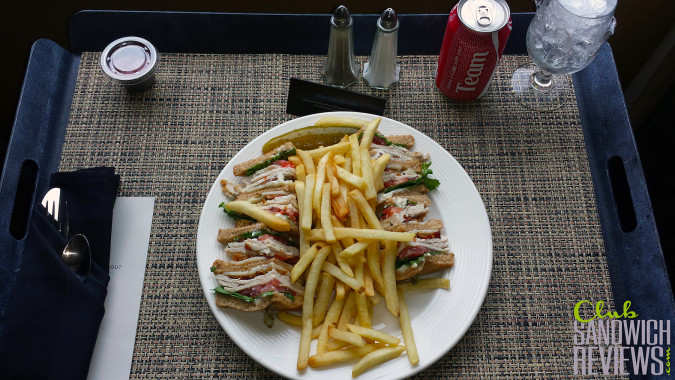 Ordered at the Hilton Americas in Houston, Texas.
Houston was known for Tex-Mex apparently – our tour guide made a clear point of this. Did Tex-Mex involve bacon at every step? And was that a good thing? At first glance, this was a definite yes. Until it started showing up in places you'd never expect it. Smoked salmon and bacon. Deviled egg and bacon. Mashed potato and bacon. Filet mignon and bacon. Everywhere bacon.
I was in town to speak at conference, and a solid night of drinking prior to my morning flight left me starving by the time I arrived at the Hilton Americas. The Hilton Americas was your standard conference hotel, although the lobby, with their faux Chihuly chandaliers, did stand out. Their rooms, not so much. But at least they had the Americas Club on their in room dining menu; exactly what I needed upon arrival.
The Americas Club came plated with your classic French fry dump, covering the quartered sandwich at all internal angels. Average and predictable presentation resonated throughout the flavor of each ingredient… albeit the bacon did stand out as the prized possession of this club sandwich. Decent smoked turkey, which came a little too smothered in mayonnaise. Lettuce that added nothing, and moist tomato that was at the tip of each corner, but did not follow the sandwich through to the crusts.
It's hard to say if I would order this club again. I would have loved to try a Tex-Mex version of this dish, but alas, I will have to find that elsewhere in Houston.
Loved Houston. The conference I spoke at (which was extremely well organized) was kind to offer a two-hour tour of the city the day I arrived (post club sandwich), which gave me great perspective on this sprawling metropolis… I will be back! But probably not a the Hilton Americas, unless it's for a conference.
Location