Summer Shack, Boston, MA USA
Crab Creation
Category: Ind. Est., Rest.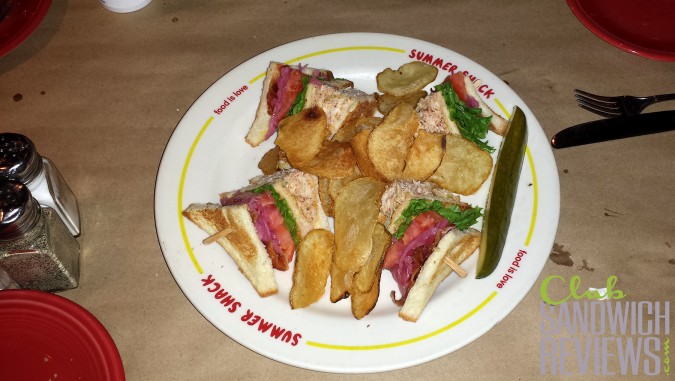 Ordered at the Summer Shack in Boston, a fantastic seafood restaurant with a convenient location known by all of the locals.
Crabmeat Club Sandwich was all it read.
We came to Summer Shack for their incredible wood grilled lobsters; these deliciously cooked crustaceans are definitely the highlight of this restaurant chain.
But how could I say no when Rachel pointed out the descriptionless crabmeat club sandwich? I simply couldn't, and not knowing what lay in store for me (except for crabmeat), we ordered the dish for an appetizer, along with some oysters, before our lobster feast… a true Bostonian last meal before moving to California the next day.
Who comes to a seafood restaurant and orders a club sandwich? This guy, obviously. However, I was curious how many others chose this dish off the menu, with so many other seafood oriented standout options and this sandwich no description… you were either a club lover, a crabmeat lover, or both.
I was not expecting the pickled red onions. They added a hint of sourness to each bite that caught me by surprise on my first quarter. The crabmeat was flaky and moist, hanging out on the bottom layer, while the tomato shined on the top. The club probably could have used more crabmeat ensuring this ingredient shined through all others as the standout role, however next to the bacon, the crab flavor got a little washed away.
This was a crabmeat club sandwich for sure. I liked it, but it did seem confusing. Overall an *interesting* execution of the dish. I was very curious how many repeat customers purchased this item from the Summer Shack… but that curiosity waned quickly as our lobsters were placed before us and our stomachs feasted on the main course.
Location