Cosmopolitan, Las Vegas NV USA
Cosmo View
Category: Hotel, In-Room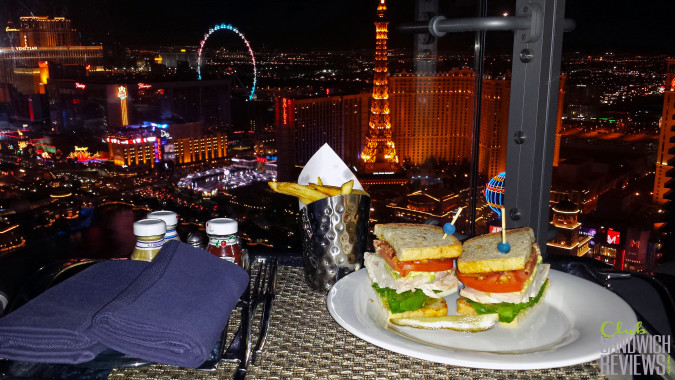 Ordered via in room dining at the Cosmopolitan of Las Vegas, with a gorgeous view from the balcony stealing the show.
Vegas is an easy trip from Los Angeles. Southwest from Burbank in 50 minutes, with 10 flights a day, makes it an effortless adventure.
I decided to make the trip while Rachel was traveling and Josh happened to be in Vegas for work, kindly offering a bed in his room at the Cosmopolitan for me to stay in.
We only booked one restaurant to enjoy during the trip: Joël Robuchon at the Mansion in the MGM Grand. This was a dining experience not to be missed, one rarely replicated anywhere around the world. And it met every expectation.
But with an 8:30pm reservation and a skipped lunch, both Josh and I were hungry watching the sunset from our room's balcony. We wanted a snack, and no, I wasn't going to get another slice of pizza from the 2nd floor of the Cosmo.
My genius idea of splitting a club sandwich resonated greatly with Josh, and so we patiently waited for it to arrive… while, in reality, truly just standing by for dinner.
"Isn't this just a turkey sandwich?" Josh asked the room service attendant as she entered. "You're going to love it, it's my favorite" she replied, seemingly ignoring the question.
Average turkey combined with a sparse amount of bacon, moistened with a single ripe tomato, the tiniest amount of avocado, and mayo – although they did have the audacity to call it pesto aioli – the Cosmopolitan's Hand Cut Turkey Club lacked the Vegas pizzazz one would expect. Did that lie in the main carb, though? Their club boasted bacon cheddar bread, an exciting addition that sadly fell flat and lacked the flavor that came on the label.
The Cosmopolitan provided the best of at least one world, while delivering mediocrity with the other. Josh and I each enjoyed our half while reveling in the fantastic view.
Appetites appeased for the moment, we again waited patiently for our complimentary Rolls Royce to pick us up and whisk us away to an incredible dining experience… while the sad thought lingered in the back of my mind: I love the Cosmopolitan, a hotel with fantastic dining venues, but I won't be ordering their club sandwich again.
Perhaps I'd have the opportunity to try another club during the trip, something more Vegas? Time would tell…
Location