Moana Surfrider, Waikiki Beach, HI USA
Huli Huli
Category: By The Pool, Hotel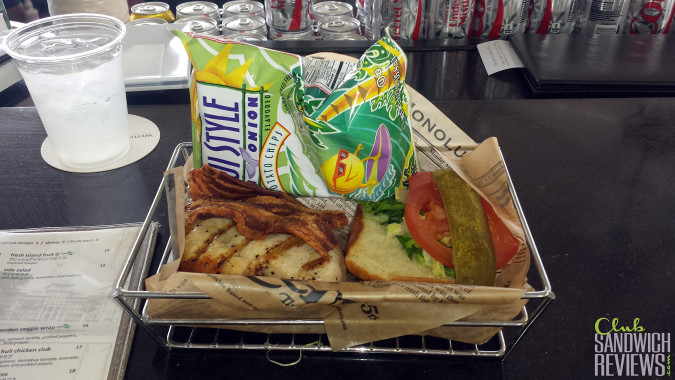 Ordered at the Moana Surfrider, a Westin Resort, in Waikiki Hawaii.
No plans for New Years.  Was I excited to watch the Rose Parade early January first? Sure, our new apartment was only two blocks from the route in Pasadena, a fact that would apparently arouse excitement in hundreds of thousands if not millions of Americans, however Rachel and I weren't exactly part of that group.
Perhaps we didn't know what we were missing.
Sitting in our room in Lodi California on the Saturday before new years, we decided to spontaneously book three nights and two days in Honolulu, all on points (a combination of SPG, AA, and Delta), arriving 2pm on the 31st of December.
New Years in Hawaii! That, we were definitely excited for.
I love Waikiki. But I was nervous for the busy crowds that this holiday would draw… nevertheless, Rachel and I didn't have to wait in line anywhere. Lounge chairs with umbrellas on the beach were easily accessible, as was the pool bar. And booking two or three restaurant reservations each night produced great results. Best of all: no taxis needed for us (Uber had an awesome 7x surcharge New Years eve).
The vacation was effortless and we reminisced about our first time here together, when we got engaged.
The poolside restaurant had limited queues, and we easily found spots at the bar overlooking the ocean as we ventured out into 2016 on January 1st, relaxation on our minds.
For my first lunch of 2016, I chose the Westin Hotel's Huli Huli Chicken Club Sandwich. Rachel went for the fish tacos.
Deliciously ripe and fresh produce. I absolutely loved the alfalfa sprouts mixed with the creamy avocado. The sweet and sourness of the pickled onions excited my taste buds, and the Waimanalo field greens and hamakua tomato confirmed with my senses that I was in Hawaii. Chicken was super moist, much more tender than I had anticipated, and it combined well with the crispy bacon – the same bacon I had enjoyed for breakfast ("I'll start that diet when I'm home," I declared to myself).
Great ingredients in the Huli Huli Club Sandwich, but sadly, not the best delivery. I would describe it as a messy burger of sorts in terms of presentation and eatability.
The Maui Onion potato chips – these were awesome. I ate too many bags of them during my stay…
A perfect getaway. A decent club sandwich. Another wonderful trip to Hawaii. One day I will live here. One day…
Location