Ojai Valley Inn and SPA, Ojai, CA USA
Energy Enrichment
Category: By The Pool, Hotel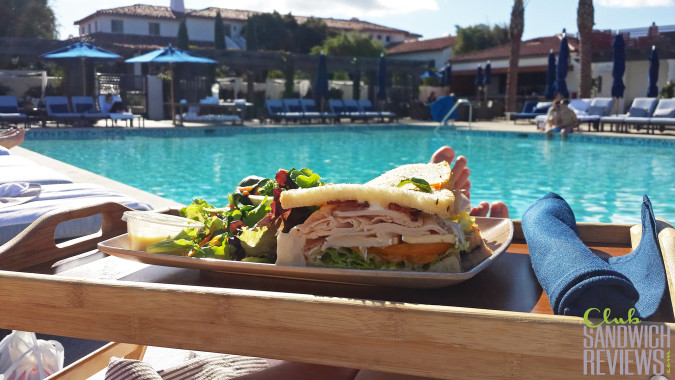 Ordered by the pool at the Ojai Valley Inn and SPA, in Ojai California.
Pure relaxation. Full of energy. Ojai was everything everyone described it would be. Even in the middle of January.
Though I could not see any of the mountains or farms that I would gaze at on the daytime ride back, I knew I was in for something special as I wound through the hills on 150 East towards the epic retreat zone on my nighttime drive to Ojai.
Even in January, the weather was gorgeous enough to spend the day by the pool. Another winter day that confirmed our move to LA was more than justified.
After Reiki in the morning from the master at Cois Dara, followed by riding our URB-E's around town, we ended up by the pool, lounging in the sun surrounded by other relaxation seekers.
And nothing says relaxation more to me than a club sandwich. Yes, I will have one, poolside at the Ojai Valley Inn and SPA.
The waitress recommended the club sandwich from the SPA menu. The truffled dijon aioli gave it a rich yet healthy flair, so she explained.
Yes I will have that.
And yes I will have it on one of those cool trays that makes it look like I'm eating a classy TV dinner on my chaise lounge.
Ambiance feeling incredible.
Delicious turkey permeated each bite. Combined with the juiciness of the tomatoes, every bite was filled with tender and moist flavors. The bacon, a perfect crisp to it, and while I enjoyed the brie, I would have rather tasted it next to the crunchy bacon; they flow together nicely. Instead, the cheese bled into the very lightly truffled dijon aioli, and together they made the sourdough bread a tad mushy. I would recommend a firmer bread (ciabatta?) that stands up to the brie cheese. But overall, a wonderful meal on a wonderful day.
A lovely sandwich, this was my moment of Zen in the heart of Ojai. My mother, Rachel and I enjoyed our weekend at the Ojai Valley Inn and SPA very much – we will be back! And when we do come, we'll always take the 150.
Location