The Peninsula Beverly Hills, Los Angeles, CA USA
#secretmenu
Category: By The Pool, Hotel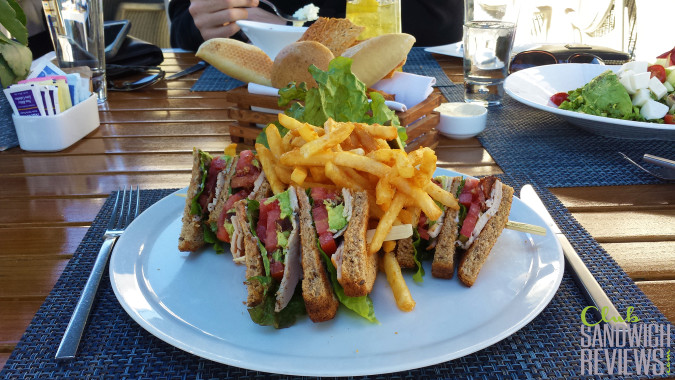 Ordered by the pool at The Peninsula Hotel Beverly Hills, in Los Angeles, California.
Lunch at the rooftop restaurant (The Roof Garden) of the Peninsula in Beverly Hills, Los Angeles. With the pool behind us and business meetings in bathing suits surrounding us, I dined with a newly acquainted friend who had called this hotel home for quite some time at one point.
While no club sandwich was found on the menu, he assured me it existed, and the waitress confirmed this as fact.
A secret menu? That seemed unnecessary. But my curiosity piqued and my excitement grew as the scene around us screamed more Miami than LA, our table perfectly situated in the center of it all.
We spoke about life in LA, life in China, and life on the road, eating lots of club sandwiches. We soaked up the weather of one of those gorgeous LA moments that you only get 200+ days of the year.
And in this perfect moment, my club sandwich arrived, quartered and complete with the classic French fry dump.
While not visually unique nor tastefully plated, The Peninsula Beverly Hills put a strong emphasis on tradition with their classic California twist.
The ripe and creamy avocado combined with the moist and fresh tomato created great flavor for each bite. These were the best ingredients of the dish, and you could tell this hotel put an emphasis on high quality produce.
The turkey and bacon were almost equally as good, however their lack of presence made this club sandwich less filling… perhaps a fitting portion size for the Beverly Hills crowd. The bread was delicious yet a bit squished in the process of quartering the sandwich.
Overall a great meal and conversation, in a lovely setting. I plowed through the crispy French fries and left fairly full, ready for the hour drive back to Pasadena.
Location