Starbucks, Cannes, France
Sh*tty American
Category: Cafe, Ind. Est.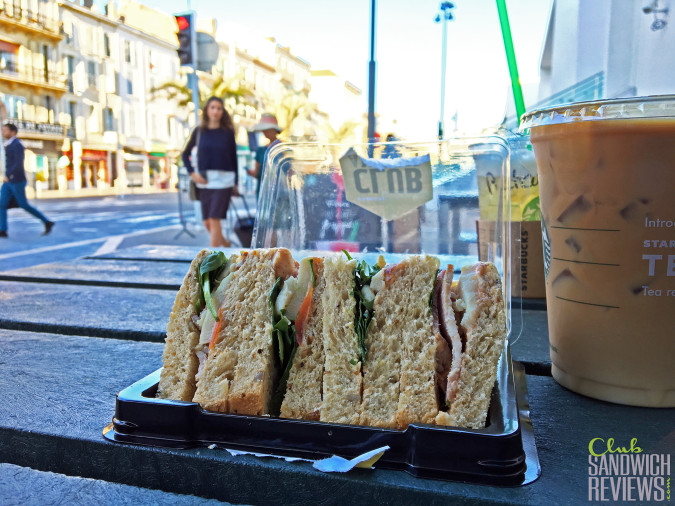 Ordered at Starbucks in Cannes, at the train station.
Life had been busy with work, so vacation was pretty much out of the question for most of 2016. Nevertheless, vacation is a must in everyone's life, so we balanced the work life relationship by taking three days off for a trip.
But instead of driving a few hours away or hopping on a short flight, Rachel and I decided the three days would be best spent in the south of France.
So we embarked on a journey that provided two days in Cannes and one day in Saint Tropez. With 13 hours of flying each way, we realized one of our days away would literally be spent traveling, but thanks to last summer, we knew it would be worth it.
What did we want to do on this vacation? Eat unpasteurized cheeses and cured meats, drink ample rosé, shop the sales at local boutiques, and live the south-of-France lifestyle.
Mission accomplished.
But one thing changed about Cannes since 2015. It is difficult to find coffee "to go" in France. It really just doesn't exist. It's not part of their culture and walking around shopping with a beverage doesn't vibe with the local scene. On top of this, iced coffee is almost entirely unheard of; it simply does not exist. So the idea of a Starbucks is pretty much appalling to most locals.
But as daily patrons of this coffeehouse chain, we decided to experience American coffee in the heart of Cannes at Starbucks.
Laughably slow, it was clear this concept was new to them. The idea of writing someone's name on their cup was also a confusing approach to serving coffee. And to top it off, the food selection could not have been more stereotypical American.
Massive donuts and muffins covered with whipped cream, giant cookies the size of one's head, fruit cups filled with lonely grapes and sliced oranges that clearly did not come from the local markets, and a wide selection of America's favorite sandwiches… including three different types of club sandwiches.
Being as American as possible, I ordered my grande extra ice non-fat latte and the "Club Anglais" – translated to "English Club."
What a sh*tty sandwich.  I couldn't tell most of the ingredients apart – they all tasted like rubber. Could it be possible that none of the ingredients in this club sandwich actually came from France? I'd say that's entirely possible.
I felt ashamed by this club sandwich and the Starbucks experience.
Could the Starbucks corporation actually be proud of their first location in Cannes? Or was this more of a joke to smite the local café scene?
If this was your first time ever visiting Starbucks, you'd probably never go back again. You'd probably laugh about it. And you'd probably make many, many jokes about the experience the company provides. And you'd probably think Americans are hilarious in so many ways.
And we never went back again. I gave the remainder of my sandwich to a homeless person, feeling bitter sweet about this gesture, and headed right for the nearest boulangerie. I needed a real croissant, and fortunately this city was full of them… but unlike Starbucks at $2.50, a locally fresh baked croissant was only $0.85.
Location