Montage Hotel, Laguna Beach, CA USA
Not Like The Others
Category: By The Pool, Hotel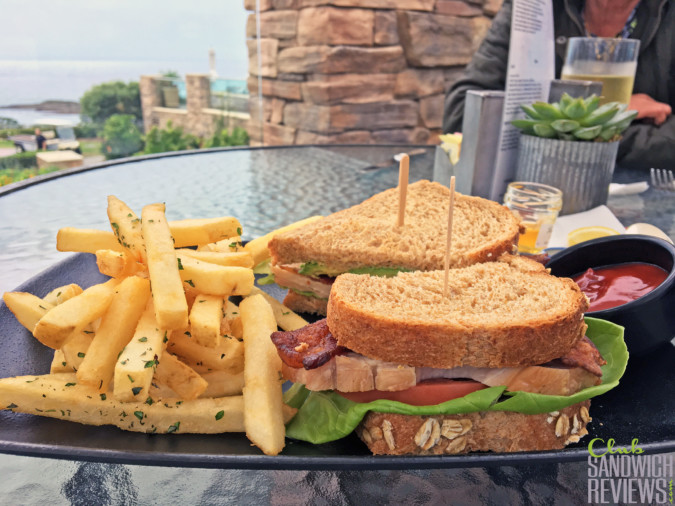 Ordered at The Montage Laguna Beach , an incredible hotel just south of Los Angeles.
We love having visitors in California, although it rarely happens.* My mother has made it a yearly mission for herself though, and we love it!
This year, she took us to the Montage Hotel in Laguna Beach, a couple of hours south of Pasadena. An absolutely gorgeous, stunning property, the Montage is uniquely situated on a cliff, which results in the lobby being on the top floor and the guest rooms below it as one makes their way to SPA and pool area.
Our first 24hrs at the Montage Laguna Beach were outstanding. Delicious dinner at The Loft. Unique drinks and lovely live music in the Lobby Lounge. Pure relaxation at their modern SPA. This property was a true destination worth driving quite a distance to.
Why oh why did their $25 "Laguna Club" sandwich not reflect any of these experiences?
I sat for 15 minutes trying to figure out how to write this review. The view, incredible. The ambiance, just perfect. The company, who could ask for more? The service, top notch. This sandwich… one of these wasn't like the others.
A single piece of butter lettuce. One tomato. Sliced avocado hugging the too-lightly toasted wheat bread thanks to the mayo. Thick cut dry turkey and bacon. I wanted to say great things for the Montage Laguna Beach's club sandwich. I was rooting for it – we all were.
But alas, this was not a dish worth driving to. Sadly it was a poor representation of the Montage Laguna Beach. One of the nicest properties I've ever stayed at will not be remembered for its club sandwich.
We left and went for a short hike… where we watched an "influencer" record a YouTube video of himself recommending his viewers stay "dialed in" and "laser beam focused" to ensure they continue to "crush it." Subsequently, I decided to remove those terms from my vernacular.
*Note to self: make it a goal in 2017 to change this
Location