Cheeca Lodge, Islamorada, FL USA
Toasted Poolside
Category: By The Pool, Hotel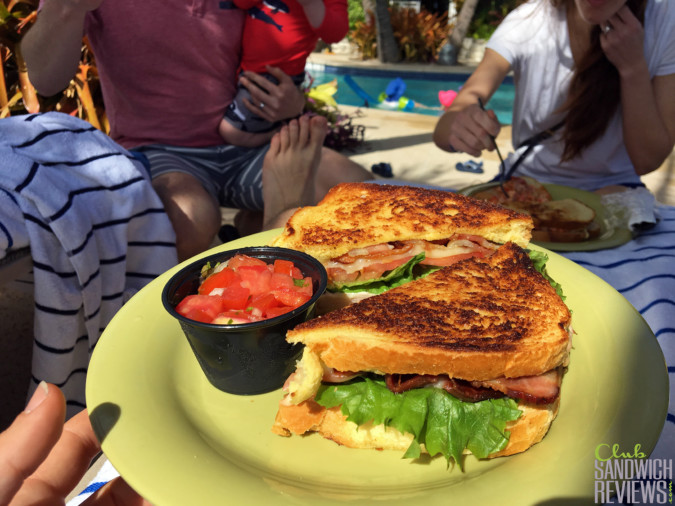 Ordered at The Cheeca Lodge, a resort styled property just 2 hours south of Miami in the Florida Keys.
Nothing says vacation like ordering lunch poolside. In fact, it's pretty hard to combine the words "work" and "poolside lunch" in the same sentence… although maybe I'm just in the wrong industry!
Several weeks of nonstop work ended with Saunders family vacation in the Florida Keys. We chose a spot that was easy for everyone to get to except those coming from the west coast: Evan and Rachel.
Nevertheless, it was family time in Florida, and lunch by the pool was an everyday must.
The Cheeca Lodge was our destination of choice, a few hours south of Miami. Apparently we had stayed there about 25 years ago, although I only remember fishing from the dock. New memories would need to be created on this vacation.
The Cheeca Lodge had a Cheeca Club Sandwich. And yes, over the course of 3 days almost all of us ordered it. But, I was the first.
The best choice among a sea of average, the Cheeca Club Sandwich was a nicely layered, hearty turkey club sandwich, complete with the standard sandwich fixings (lettuce, tomato, bacon, cheese) nestled between two lovely toasted pieces of sourdough bread smothered in delicious tomato aioli.
Being in one of the fishing capitals of the world, with excellent farmland just north, for some reason I had hoped this club sandwich captured more of the locally available ingredients. But I wasn't complaining, merely observing.
I enjoyed the Cheeca Club Sandwich, and so did everyone else. It wasn't nearly as delicious as the fresh fish we caught and grilled, but how could it be?
Location