Royal Park Hotel Shiodome, Tokyo, Japan
Fried Chicken Friendly
Category: Hotel, Lobby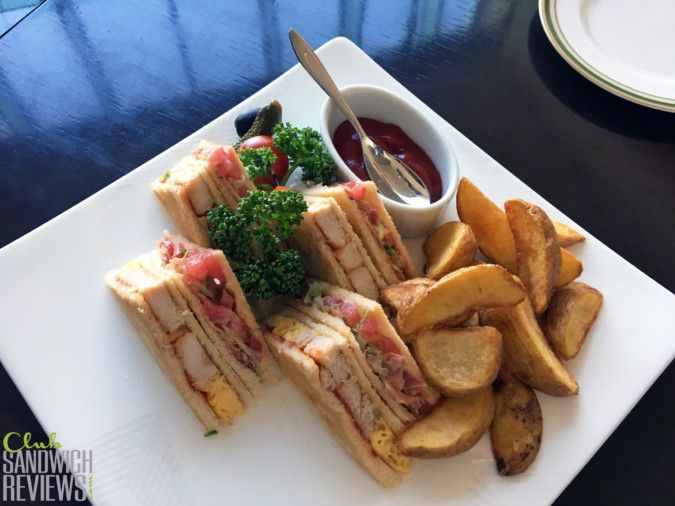 Ordered at Royal Park Hotel Shiodome in Tokyo, Japan.
It was Rachel's fourth time in Japan this year. Fourth time staying at this hotel, the Royal Park Hotel Shiodome. And she raved about everything at the property… except their food.
She was right: ignoring her advice, nearly every item I tried from their café was a letdown. While the Japanese creations in the exclusive restaurant on their 25th floor might be delicious, they specialized in poorly made western "grab and go" fare.
In between shopping in Harajuku and getting ready for the night out, I craved something to quench my hunger and provide me the required energy needed to brave the night's meal. Rachel had set us up with a very unique dining experience, and while I was excited, I also didn't want to show up hungry.
What was on the menu? Conch. Snail. Giant clams. Sea urchin. Scallops. Crab eggs. Huge oysters. And a lot of beer and sake. Yes, I was excited to try everything the chef (former Japanese pop star and Tsukiji fish market auctioneer) served us in his intimate environment, but, I really didn't want to show up starving.
Our hotel lobby was on the 24th floor overlooking the heart of Tokyo. A gorgeous view ensured many Japanese and westerners patroned the lobby restaurant. My mind and stomach wandering the area for a snack, I was delighted to find out they had an "American clubhouse sandwich."
With no ingredients listed, I ignored both Rachel's advice and my personal experience and ordered the club sandwich with a cautiously optimistic attitude. I wasn't looking for a full meal, just something to hold me over, so I wasn't too worried…
… 15 minutes it took for this club to arrive. In a city where food is often served in only a few minutes and an entire meal takes 15, I was intrigued to see how long it took to prepare this sandwich.
And wow was I blown away by it.
The moist fried chicken surprised me. How could they make it so tender? Leave it to the katsu experts on that one.  The lightly mayo'd diced tomato with sparsely added lettuce created a creamy touch to each bite. And the three layers of decrusted bread poised the elegance I would expect in a Japanese establishment proud of their flagship western dish.
I am not sure what the parsley was doing in the center of the quartered sandwich, but the fresh fries were spot on.
YES, I'd order this meal again, and if I wasn't such a Japanofile, I probably would have during this trip. Hungry at the Royal Park Hotel Shiodome in Tokyo? Go for their club.
Location