Suiran, Kyoto, Japan
Japanese Escapism
Category: Hotel, In-Room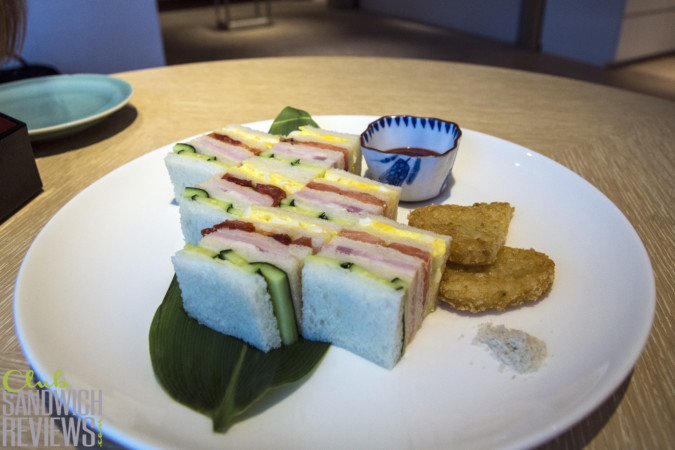 Ordered at Suiran, a Starwood Luxury Collection hotel in Kyoto, Japan.
Soooooo much sightseeing. Our feet were aching from miles and miles of walking through the narrow streets of Kyoto. Halfway through our trip and at least 12 solid Japanese meals in, my body (and mind) needed something satisfying in a different way.
Our first day away from Hokkaido, I used points to book us at Suiran, a Japanese-styled hotel operated by Starwood, which meant it was really for non-Japanese people. In fact, I hadn't seen this many Americans during our trip in Japan, not even in Haneda airport.
Suiran was a beacon of escape for Americans who wanted to immerse themselves in Japan, wanted to tell their friends they stayed in a beautiful (gorgeous, really) Japanese hotel, but in reality, wanted all of the comforts of home.
Which included a western-centric in-room dining menu complete with club sandwich.
Guilty of a case of escapism, I ordered the club sandwich and Rachel ordered the bento box.
Beautifully cut into six even cubes, the chef behind Suiran's club sandwich was clearly using a sushi knife to slice the ingredients and make each piece perfectly symmetrical. This plate was art to its creator. And while none of the ingredients really stood out – bread quite plain, meats lacking in flavor (especially when compared to those we had in Hokkaido), cucumber and tomato fresh and crisp but umami-less – this was no fault of the chef who created it.
Each cube took just two bites to finish. I realized this could have been plated as a full meal, such as the one I was having, or as part of a tea offering joined with other sandwich cubes.
A perfect boost of energy halfway through the trip, I enjoyed this club sandwich. It felt healthy, it felt nourishing, and while it didn't offer a WOW factor (besides it's ratio and plating), I'd recommend it to anyone needing a club sandwich fix in Kyoto.
As for other western items on the menu – I'd avoid their western breakfast. Rachel's "well what were you expecting, Evan?" really did hit it home on their over-easy eggs, sausage, and bacon. I'll stick with the Japanese breakfast next time.
Location