JW Marriott, Bogota, Colombia
Hot Mess
Category: Hotel, In-Room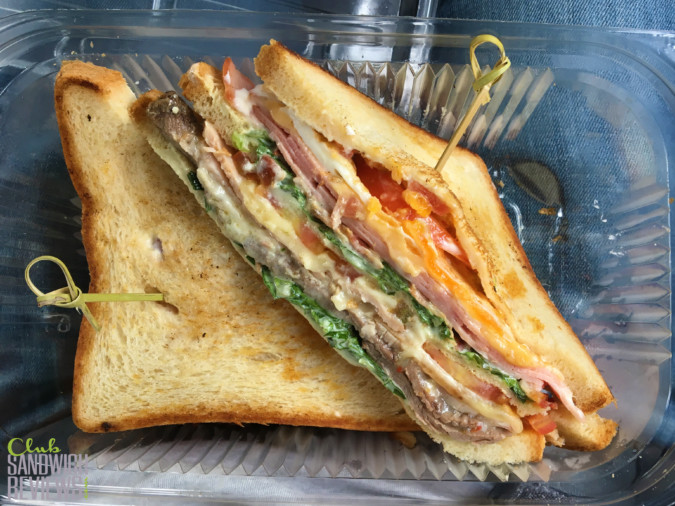 Ordered via in-room dining at the JW Marriott in Bogota, Colombia.
24hrs in Bogota.
That's all the time we needed to get the most out of this city. I had heard differing opinions before visiting, and I have to admit: nearly all of them were accurate, as juxtaposing as they sounded.
The JW Marriott was a lovely oasis separated from the bustling city life, which I would describe as both lively and dreary, even if those two adjectives contradict each other.
A long day of sightseeing bled into a long evening of revelry, and even though our flight to Cartagena wasn't until 1pm the next day, I knew a lack of sleep combined with jetlag combined with the mile-high-plus altitude would leave me hungry and in need of energy in the morning.
We ordered food to go, and naturally I chose the club sandwich. Without reading the description on the menu, I grabbed our meals from the front desk, and opened my lunch in the taxi on the way to the airport.
Looking down I was shocked at what I saw: a hot mess.
Were there ingredients the chef at the JW Marriott Bogota didn't want to include in this club sandwich?
I wish I could describe this sandwich as overindulgence, but it was hard to get even a few bites into the meal without wondering what I was eating.
Proteins galore, I couldn't tell the difference between the egg, ham, chicken, bacon and steak during the bite down. As concerning as that fact was, the cheese overpowered everything. And the bread? It became soggy and limp almost immidiately, which meant ingredients all over my hands.
I pitied the middle slice of bread, suffocated in the center. Its lack of purpose epitomized this club sandwich.
Thrown together with little care towards the overall flavor, I lost interest in my club sandwich quite quickly. Josh actually laughed at me as I tried to eat it. "Cheesy mush with varying textures of soft protein" is the most accurate one-liner description I can come up with.
I love the idea of this club sandwich, and I'm sure these ingredients could be used together well, but like a college student taking the walk of shame home after a long night of partying, this club sandwich was a hot mess.
Location