InterContinental Hotel, Cartagena de Indias, Bolivar, Colombia
Away from the Vendors
Category: By The Pool, Hotel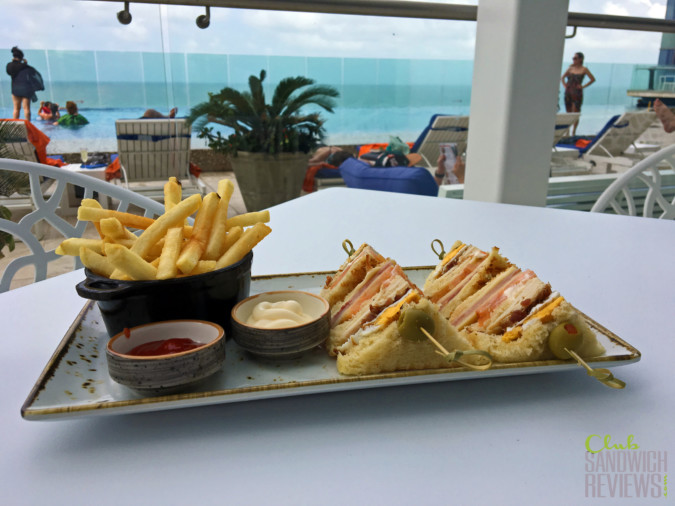 Ordered at the pool area from the InterContinental Cartagena de Indias in Cartagena, Colombia.
Cartagena couldn't have been more different than Bogota. And wow was I happy to have landed here for 4 nights.
Love Cartagena. Culture, food, cocktails, history, architecture, nightlife, beaches, boats, and so much more.
Why had I never been here before?
I couldn't answer that question. But who cares – I was teeming with excitement waiting for Rachel to join us in this South America meets the West Indies, Caribbean Colombia.
We weren't ready for the beach vendors. They are intense. Ceviche, oysters, crab, massages, tours, jetskis, beers, even the occasional rap group, all vying for your attention and your money on a crowded beach.  I loved this culture, but we needed to relax by the pool before diving into it.
All of us hungry, the natural choice was a club sandwich. One hopefully more edible than the previous club in Bogota.
This was a crowd pleasing club sandwich. A textbook creation. A meal everyone would enjoy and no one would love. 3 types of protein, moistened by mayo and a thin slice of tomato. All held together on decrusted toasted white bread. All great, but nothing to write home about.
Although how that olive ended up on the sandwich, I will never know. A mystery I mulled over during each bite down.
Totally enjoyed this club sandwich. I was pleased. And even though it hit the spot, I have to admit that the food we ate throughout Cartagena was way better than this. I would have loved to have seen a Colombian twist on the club sandwich… as cool as the olives were, I don't think that was locally inspired.
After a few days in Cartagena I was sad to leave. An excellent, exciting destination (year-round I imagine) I look forward to coming back to. And for anyone considering Aruba, skip it, and come to Cartagena.
Location