UFood Grill, Salt Lake City (Airport SLC), UT USA
Awful Burrito
Category: Airport, Restaurant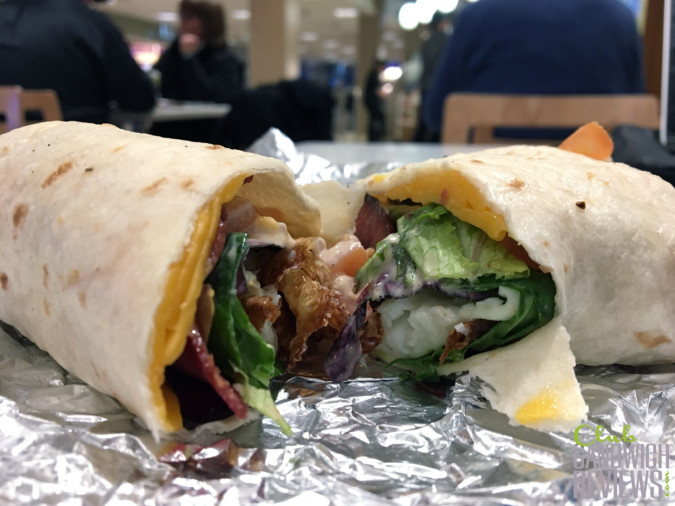 Ordered at UFood Grill at the Salt Lake City Airport, Delta Terminal.
Boy's skiing trip. I felt like I was back in 7th grade visiting my longtime friend Ricky and staying with his father, who set the schedule and the pace. My 2nd family.
What they called Park City's worst snow in decades, I called fantastic. A bad day of skiing in Utah is still better than anything I'd grown up skiing in New England.
I arrived fairly early for my flight home to LAX and wandered the airport perusing menus to find the healthiest establishment in the area. Slim pickings. U Food Grill however stood out among the rest – their menu boasting healthy ingredients with accurate calorie counts next to each meal.
At under 500 calories, their Club Sandwich Burrito grabbed my attention immediately. How could I go wrong with this selection?
I wanted to be healthy, but their turkey bacon was literally cardboard; paper thin and overly-chewy, they need to source a new turkey bacon vendor. The cheese was hard and unmelted, adding nothing to the meal. The burrito could have used more cubed tomato, but it honestly didn't matter because the entire thing was smothered in a non-spicy hardly-chipotle chipotle mayonnaise. To top it off, an extremely doughy tortilla held it all together.
What a disaster of an execution. Poor ingredients, poor burrito wrapping technique, poor ratio… needless to say, I had to visit another to-go location to get my pre-flight morning breakfast fix.
I did my best to forget this meal and focus on the rest of the trip as I boarded my flight. See you next year Park City!
Location