The Chatwal, New York City, NY USA
Zakarian's Frankenstein
Category: Hotel, In-Room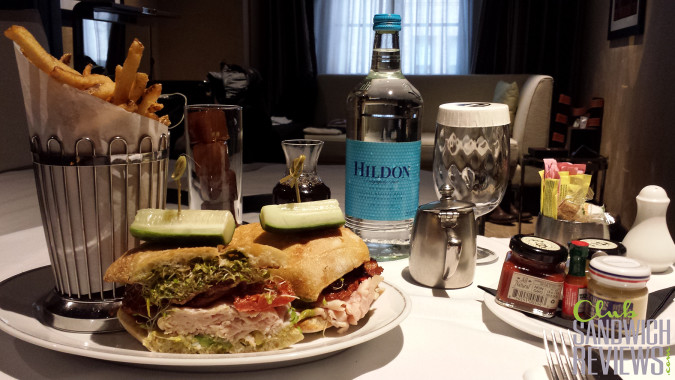 Ordered via in-room dining at The Chatwal Hotel, from their on-property restaurant, The Lamb's Club, by Geoffrey Zakarian.
An awesome achievement… three years after we started Attract China, the largest hospitality sales and marketing association in the world awarded me for being one of the top minds in the industry. While my name was on it, the honor wasn't just for me – it was for our whole team and their dedicated, relentless work over the past few years. High-fives all around.
I was in a bitterly cold New York City to attend the awards ceremony, before heading off to a warmer Los Angeles the following day. While I wanted to be out-and-about in the city, most of my time was spent in my dark and somber hotel room doing work.
I didn't fully understand The Chatwal Hotel. Was my room for tourists? It didn't appear that way; for the expensive price of this hotel (I was staying using SPG points), I don't know what type of tourist would be excited for the experience it provided. The glitzy bathroom, draped in gold like a transplant from Vegas, greatly contrasted the browns and rich purples that enveloped the room as if there should be a fireplace in the corner. Was my room for business travelers? I didn't enjoy working in this space, and the darkness of the room's design encouraged an uninspiring ever-present aura to surround me while I labored on my laptop.
This was a hotel for those with SPG points to stay at.
One thing was for certain though: The Lamb's Club, the restaurant by chef Geoffrey Zakarian located in the hotel and the provider of in-room dining, was well-known. It was described as a "clubby, art deco-styled eatery with an expense-account crowd." Did that make their food good?
Only one way to find out. I placed my order for their Dagwood Styled Turkey Club, $28.
I was expecting a sandwich stacked high, embracing Dagwood Bumstead's desires, but this is not necessarily what arrived, and it made me question Zakarian's knowledge of sandwich styles. But with a pretty in-room dining presentation, in the moment I cared less about style and more about all of the other aspects of this club sandwich.
Geoffrey Zakarian's Turkey Club was… different. I didn't really get it. The flavors and ingredients contrasted like oil and vinegar.
I wanted to love the dried tomatoes, but combining them with the picked peppers, fairly tasteless sprouts, and ripe avocado gave way to muddled hits of tangy tastes that didn't make sense together. The cucumber on top only added to this. I felt like I was eating an invention that didn't work. And so many sprouts! The ratio of ingredients in this meal was definitely off, and you can tell from my photo that the dried tomatoes weren't evenly applied and thus only in half of my bites. The turkey and bacon were solid, but added together, the overall flavor did not make sense to me.
An interesting creation that didn't work, but oddly passed Zakarian's approval.  I really wanted to love the Lamb's Club Club Sandwich, but I did not, and in the end, simply ate all of the French fries to fill me up.
So many people I know have praised The Chatwal and The Lamb's Club, which made me second-guess my own experience… but as I sat in my hotel room writing this review, I knew my perception was reality.
Location