Wolfgang Puck Gourmet Express, Logan Airport, Boston MA USA
Mid-Flight Meal
Category: Airport, Cafe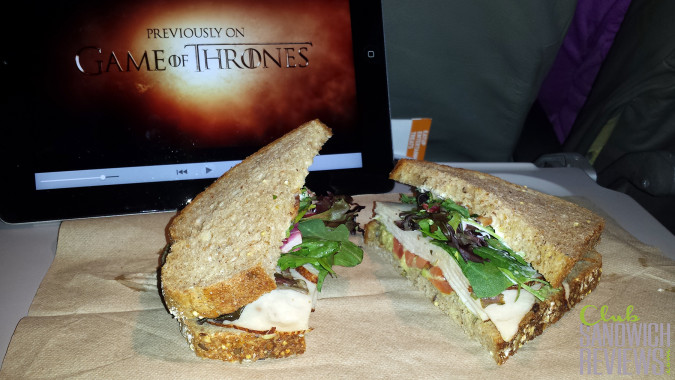 Ordered at Wolfgang Puck Express in Terminal C of Boston Logan Airport, before boarding my JetBlue flight.
6.5 hour flight from Boston to San Jose on JetBlue and the only food they serve is snacks. That felt a bit criminal in my opinion, and I was glad I found this out before the flight. As a result, I was tasked with finding an appropriate meal that I could eat 3 hours into the journey.
Either a sandwich or salad fit that bill. And while Wolfgang Puck's Gourmet Express in terminal C at Boston's Logan Airport had both, their Turkey Club instantly caught my eye, and I had faith this sandwich would hit the spot halfway through the flight.
Arrive at 9pm, present at a conference the next morning at 9am, on a flight back to Boston at 12noon… This 15 hour stay was almost the same amount of total travel time. Work was on the agenda for both flights, but at least I knew the first one included club-induced relaxation.
And so I waited until the right moment.
Nearly 1000 miles later I decided it was time. I slid my work to the side, ordered a bottle of their finest red wine, and turned on Game of Thrones… Now was the moment!
A true upgrade from my previous experience with Wolfgang Puck at Chicago Ohare International, this club sandwich delivered on the comfort I was hoping for mid-flight.
Muted sour flavors from the baby greens echoed throughout the overall tast. Bouncing around my mouth, each bite was oversshadowed by this addition to Wolfgang Puck's club sandwich. At first it was disappointing, but by the end, I craved it. A doughy bread ruined what texture was present. The turkey was actually decent, as was the bacon, but the ratios were all off and the sandwich lacked a heartiness I needed… poor value. I think the avocado and tomato were good, but due to poor proportioning, they were so hard to notice.
I'm a glass half full kind of guy. I felt lucky to be eating this sandwich while everyone else around me dined on popcorners and doritos. So while I will never get this sandwich again, I enjoyed the moment very much.
Location