Mocca, Cannes France
30th Birthday Club
Category: Ind. Est., Rest.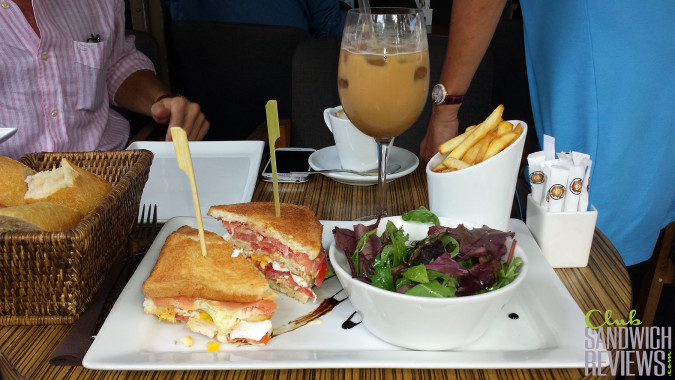 Ordered at Mocca Restaurant in Cannes, adjacent to the red carpet, on my 30th birthday.
Turning 30. A bittersweet event?
Unhappiness lingered in this joyful moment.
Sure, I'm known for celebrating birthday "weeks," but this being the actual day, I wanted nothing but a smile on my face. I looked around and realized: this is a very achievable undertaking.
No matter what Seinfeld says, happy birthdays, even when you become 30, are a real thing.
I turned my head and stared at Rachel laughing in delight, a smile beaming across my face. We sat adjacent to the beach at a café in Cannes, soaking up the south of France, loving every minute of life. It was a moment immersed in joy; there was nothing bittersweet about it.
While iced coffee wasn't really a "thing" in Cannes, rarely found (Starbucks was a true faux pas), apparently club sandwiches were quite popular. And luck was on my side today as the café we randomly stopped in had both on the menu. We were starving… although we shouldn't have been: the hotel breakfast in Prague was enough to last all day… but after spending most of July with limited appetite, I was excited to have my hunger back.
We relaxed in the open air environment, watching as tourists posed on the red carpet, taking in the sights and enjoying the people-watching. This was a prime location, and it was the height of the season.
Mocca's Smoked Salmon Club Sandwich was excellent. Our first meal in Cannes, it was everything I expected out of France: deliciousness and freshness in every bite.
How does France do it?!
Incredibly ripe tomato, full of flavor, covering every mouthful in umami. Nicely fried farm fresh egg. Smoked salmon with a creaminess that added the perfect texture, essence, gusto, and magic to this triple decker. Complete with golden-brown toasted white bread, holding the moistness of each bite together.
That's it: just 3 perfect ingredients, coming together in celebration, for a decadently simple club sandwich.
Over the coming days I would eat a tremendous amount of French food, and love every single bite. Again, just HOW do they do it?!
Location