Hard Rock Hotel, Orlando FL USA
Kid Friendly Dissapointment
Category: Hotel, In-Room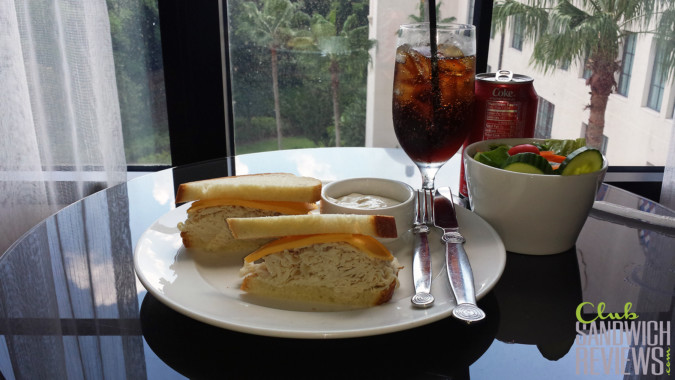 Ordered at the Hard Rock Hotel in Orlando, adjacent to Universal Studios.
Who flies from Boston to Orlando Wednesday morning of the week that most schools begin at 7:30am?
I asked myself this question while boarding my Delta flight.
The answer: not many people.
I was in Orlando for a night to present at a conference, and the Hard Rock Hotel was my lodging destination. The conference was extremely well organized, and they made me feel like a rock star, picking me up in a chauffeured black car and having me present to 100+ people on stage at the Hard Rock Live venue.
It made me almost enjoy wearing a black suit in the Florida summer heat.
In between my presentation and cocktail hour, work called, and I headed to the hotel room to get stuff done. To power me through the afternoon, I needed a snack. Not a full lunch, but not a bag of chips…
Ah yes, the Kid's Turkey Club Sandwich sounded like the perfect match for my mid-afternoon appetite.
While the menu boasted a mini-me version of its adult counterpart, bacon, lettuce, and tomato included, what arrived to my room was a pathetic performance in stark contrast with the chef's description.
The Kids Turkey Club Sandwich was essentially bread, turkey, and American cheese.
Major disappointment. I pitied the kids who thought they were sampling what adults worldwide get to enjoy. I cringed thinking how I would react as a parent if this arrived for my child.
Nevertheless, the turkey was actually delicious. So I ate all of the turkey and left the cheese and bread.
Luck was on my side though, as I was dining at The Palm in a few hours, and as a glass-half-full kind of guy, this meant a larger appetite for dinner. Would I go for steak or lobster?  Decisions decisions…
Location