The Nosh of Beverly Hills, Los Angeles CA USA
East Coast on the West Coast
Category: Ind. Est., Rest.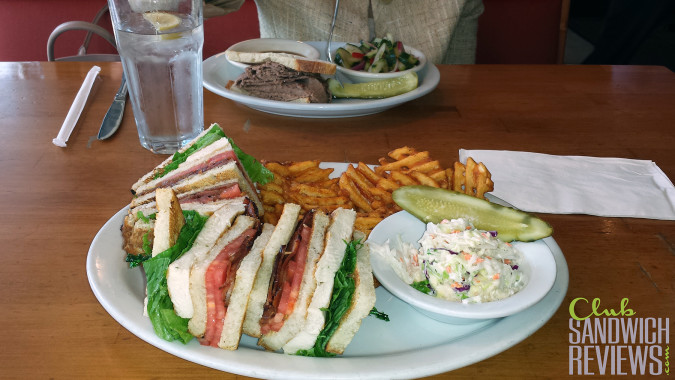 Ordered at the The Nosh of Beverly Hills in Los Angeles, California, just off of Wilshire Boulevard.
I met my aunt at the Beverly Hilton Hotel on Wilshire (not to be confused with all of the other Beverly Hotels on Wilshire). A few minutes late, she had already asked the concierge where we could get a good club sandwich locally.
The Nosh of Beverly Hills they suggested.
And so we were off, walking the short yet awkwardly positioned distance from the hotel, a 2pm hunger grabbing at our energy.
Nosh looked like your typical diner. Their menu and ambiance both resonated with east coast roots and their club sandwiches had nothing to do with California… that's right: no avocado!
Per the waiter's recommendation, I went for the Grilled Chicken Club on sourdough, which came with bacon, lettuce, tomatoes, a healthy serving of waffle fries, and a side of coleslaw
No ingredients stood out with this meal, and together they make a decent dish, one you could tell was a staple of The Nosh's longstanding menu.  I did my best to not fill up on the bread but rather consume all of the ingredients, including the tasty yet slightly dry chicken, and non-salty crisp bacon.
But those waffle fries… I didn't need them, but I ate all of them.  A great addition to this plate, I highly recommend these fried carbs should you ever be in the area looking for some nosh.
Location