Hotel del Coronado, San Diego, CA
Sandywich
Category: By The Pool, Hotel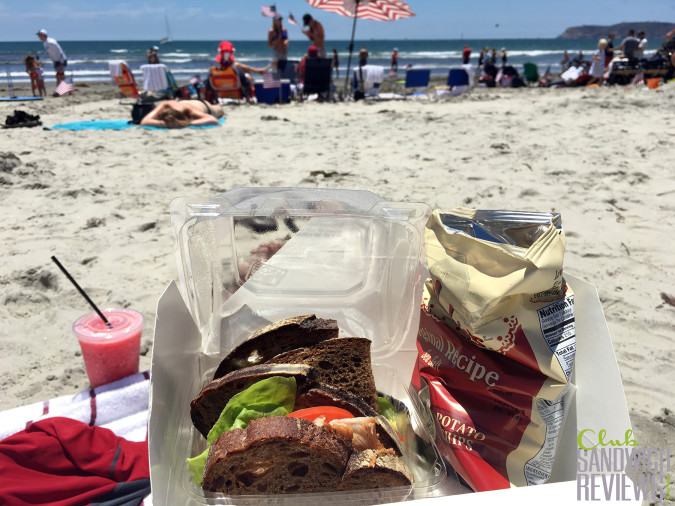 Ordered on the beach at The del Coronado Hotel, in Coronado, an island just outside of San Diego.
When I received the email notifying us the office was closed Monday, it occurred to me we had no Fourth of July plans. I was not prepared for this moment.
Fortunately Rachel was full of ideas, and 3 hours of research later, we were booked to go to San Diego. Even though it was only 2 nights, this would be our first trip together since New Year's.
We chose to use points on Amtrak and avoid driving, excellent decision. Equally excellent was the hotel choice: The Del. A bit dated and waaaaaaaaay too many tourists, The Del is a true classic that felt a bit more like an attraction than a hospitality house.
My club came at the final meal of our trip. After La Jolla. After the night zoo. After amazing thai food. After amazing mexian food. After hours of bicycle riding around Coronado.
We finished riding the same wave in on our boogie boards when hunger took over and we headed to the snack bar. When I ordered the $18 turkey club sandwich, I expected to be wow'd, but when I saw it was a prepackaged meal, I expected to be disappointed.
Basking in the sun, perfect weather on a perfect day, nothing could ruin this moment…. But an overpriced club sandwich tried to.
The malted brown bread was dry and flavorless. The bacon looked like it had been cooked weeks ago in some large factory, and its lack of presence was bittersweet. A few slices of avocado, one slice of tomato, a chunk of turkey… the Hotel del Coronado Club Sandwich lacked tender love and care, in addition to plentiful flavor-packed ingredients.
While they can't all be winners, this club sandwich was a loser. Fortunately I couldn't care less. We were in paradise, enjoying the last moments of vacation. This was an awesome tip. Now back to work.
Location