Wolfgang Puck Express Los Angeles Airport (LAX), LA USA
Pre-Hawaii Meal
Category: Airport, Restaurant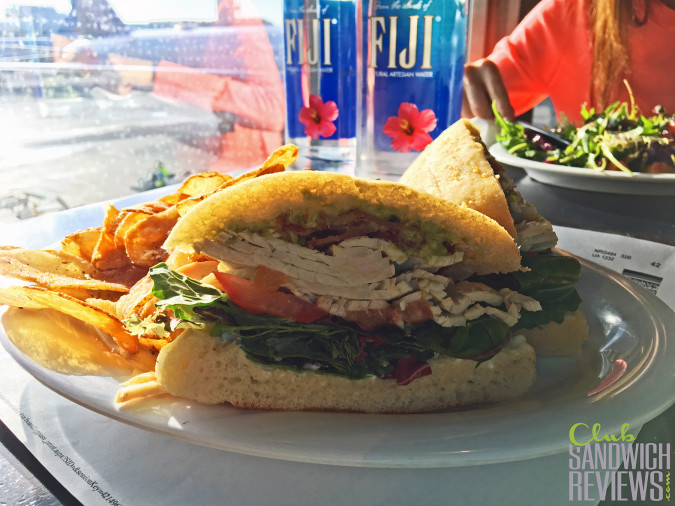 Ordered from Wolfgang Puck Express in the United terminal of LAX.
We needed a break. We needed some relaxation away from home.
Our last time flying somewhere for vacation, just the two of us, was when we went to Hawaii for New Years. How fitting that we would choose the same destination to go to, just as spontaneously as before.
We used a combination of United, SPG, and Capital One points to book a free vacation to Waikiki beach. 8pm flight to Honolulu on Friday, land around 10:30pm. Come back Sunday, landing at midnight. No one would know we were gone.
Waikiki has to be one of the best beaches in the world. Rachel and I both knew what we were in for, and as we got to the airport, excitement overtook us both. But even such an exciting moment couldn't quench our immense appetites, and we found ourselves in search of a meal to fill us up prior to the 5.5 hour flight, which served no real food.
Workgang Puck Express at the United terminal in LAX boasted a rotisserie turkey club sandwich at $15. When we ordered, the lovely lady at the cash register informed us our meals would take 12-15 minutes, and if Rachel wanted salmon it would be up to 20.
So much for express. This restaurant was clearly meant for people who have a lot of time to kill. Long delays at LAX? Probably often.
After our meal together came to a nice $42, we sat down by the window and waited, patiently.
Just when we were about to give up and succumb to the temptation of asking where our order was, our meals arrived and I could already tell that Wolfgang had upped his skills. Now keep in mind, I've eaten many Wolfgang Puck airport club sandwiches, so I did have my doubts walking into this.
But Puck delivered on a decent club sandwich, clearly using each of the extra 10 minutes it took to make to properly craft what would be, to this date, the second best airport club sandwich of all time…. which is both saying a lot, and quite little, at the same time.
Hearty sliced turkey made this sandwich a meal. The bacon, all bunched in the center, didn't do much. The avocado smoothed out the meal at the top, while the garlic aioli did the same for the bottom slice of ciabatta bread. Tomato, it was nice to have it there, but the sandwich could have used more.
And we boarded the long, no wifi, flight to Honolulu with stomachs full and smiles on our faces. We knew what awaited us, and yes, I would do this every weekend if I could… although I wish there was wifi!
Location