ARIA Sky Suites, Las Vegas, NV USA
Plain Pizzazz
Category: Hotel, In-Room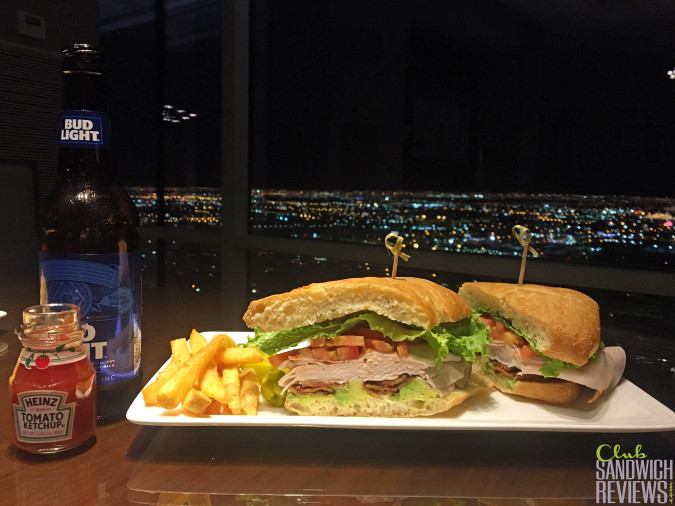 Ordered "To Go" from in-room dining at ARIA Sky Suites Hotel in Las Vegas.
Weekend trip to Vegas. Rachel and I hadn't been together in… 6 years was it? That almost sounds unbelievable, and while both of us remember it well, this trip was purely for pleasure, unlike the previous which was Rachel's business trip I tagged along on.
Always so difficult to choose a hotel in Vegas. And there are so many properties I have yet to stay at. This time we went with Aria, and got a 2 bedroom suite for all of us. Fun would surely ensue over the coming days.
The hotel was fantastic. A seamless experience from our free limo pickup to the check-in at our private concierge. Great way to start the trip.
What's another great way to start a Vegas trip? With a Vegas club sandwich, of course.
I used their iPad to order in-room dining – a new experience for me. I think I enjoyed the minimal-human-interaction approach, coupled with their efforts to upsell me every step of the way.
And yes, I fell for their up-sell opportunities.  Yes I needed drinks, and a big bottle of Pellegrino. And that chocolate snack. No, I didn't need to pay more for caviar, but appreciate the offer.
30 minutes later, and Aria's club sandwich was sitting on our dining room table, looking back at me with serious intent. Yes, I fell for it.
With a beautiful view of Vegas in the background, I gobbled up Aria's club sandwich.
I loved everything about this sandwich except for what it didn't have… it was lacking… that Las Vegas pizzazz that so much of this city's food exudes. Excellent ciabatta bread. Deliciously ripe tomato and avocado. Good turkey, decent bacon. But nothing exciting. I didn't come all the way to Vegas to have anything I could get elsewhere. And while Aria's club sandwich was indeed delicious, it just didn't do it for me in that moment.
So on our last night, instead of getting room service, we went to the brunch restaurant at 3:30am and dined on chicken and waffles… now that felt more Vegas than the in room dining… even if I got caviar on the club sandwich!
Location