Hill Grill, Los Angeles, CA USA
Trailer Gem
Category: Ind. Est., Rest.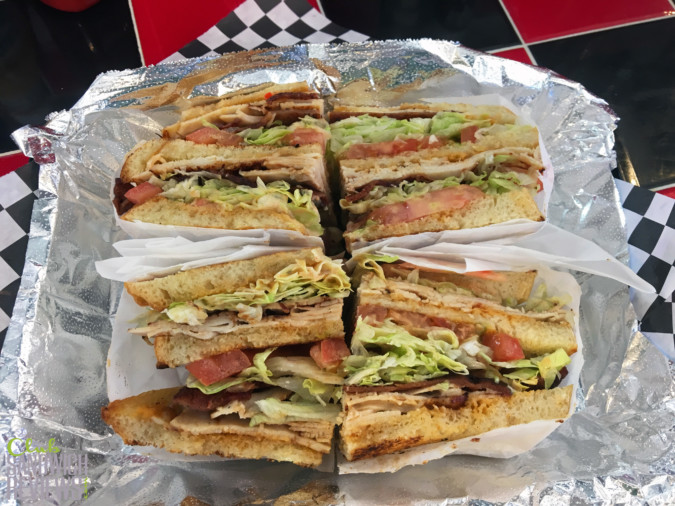 Ordered at Hill Grill in Downtown, Los Angeles, California.
Setting up for the LA Auto Show is always exciting… and tiring. This year we had three locations, all excellent, with new products being launched, which meant more everything to set up.
Halfway through the day, Daniel and I caught ourselves needing an injection of energy.
With the food venues at the convention center closed, Daniel turned to yelp, and found a highly recommended sandwich spot about an 8 minute URB-E ride from where we were.
I gladly followed Daniel into the depths of downtown Los Angeles, through streets and alleys in a very eclectic part of town. We ended up in an area that is best described as mixed use; new apartments sat next to decades old houses, with nightclubs and trailers nestled in-between. This area of downtown looked as confused as I felt.
Hill Grill was a trailer parked in the middle of gentrification. I couldn't tell if this place had been set up yesterday as a temporary spot, or it had been here for generations. Walking in, I didn't care: I loved everything about Hill Grill's ambiance.
We placed our order with the cashier who looked like a Disney villain with makeup splashed onto her face in a very Hollywood meets Toontown way, and watched the cook go to work on Hill Grill's griddle.
Like a Benihana meets taco truck chef, Daniel and I sat with excitement watching our ingredients cooked on the griddle through the "open kitchen" scene. Flipping and chopping and smearing – we were in the company of a serious professional here.
The turkey was cooked on the griddle. The bread was also good on the griddle. Mayonnaise not on the bread but on the protein. Layer by layer each ingredient was cooked and added as part of my double-decker club sandwich.
The process – a labor of love and perfection – presented me with a meal fit for a club sandwich king.
A fantastic meal at a fantastic value in the heart of downtown Los Angeles! I loved every bite down of this club sandwich, and greatly appreciated the care taken to ensure every mouthful had the same amount of each ingredient.
The only thing that could have made this sandwich better were the ingredients. Sadly, they didn't use high quality anything.
Still, I'd definitely go back. I loved everything about Hill Grill. And you would too.
Location