Prince de Galles, Paris, France
Smoked 60
Category: Hotel, In-Room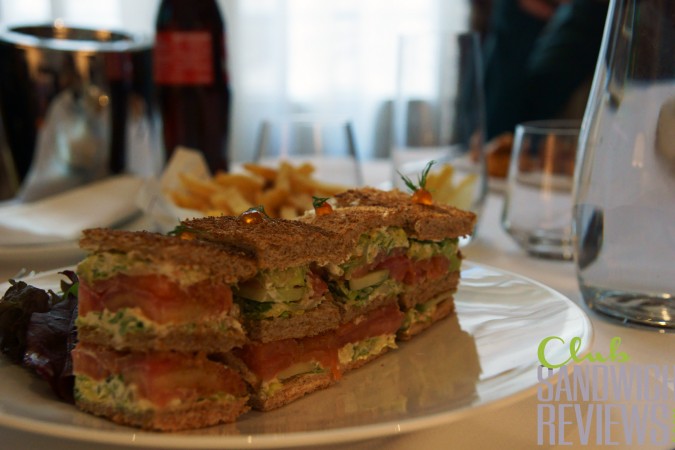 Ordered at the Prince de Galles hotel in Paris, France.
The incredible low I experienced the day after my wedding was unlike any other "down" feeling I've had. I spent nearly 12 months planning the party of a lifetime, and all of a sudden, it was over. Done. Sure, we had fantastic memories, but there was a sadness that lingered around me knowing our wedding – the event I spent countless hours planning and organizing, with all of our closest family and friends, and the woman of my dreams – had come and gone. I was a happily married man, but I had so much fun that I just craved to do it all over again… something I knew was impossible.
As we checked out of The Mandarin Oriental Hotel in Boston, we shared a moment with the front desk agent I will never forget. I signed the bill and the agent smiled, saying "Back to reality I guess?" and Rachel and I looked at each other and exclaimed, "Reality?! We're heading on two weeks of vacation, first stop Paris!"
Laughing all the way home, I was no longer down about the wedding being over; I was higher than ever, excited for nearly two weeks of vacation, a trip I spent 8 months planning in detail. As my readers know, I love to travel, and while spontaneity can be very rewarding, I personally feel a well planned trip can – and does – offer more to the international traveler.
And perhaps that's one of the reasons why Rachel and I balance each other so well: I'm a detailed planner and she is spontaneous. Adding both of these ingredients to any trip tends to provide a great outcome.
The flight from Boston to London is criminally short, leaving very few hours to sleep. I know this flight well as I used to do it many times each year going to/from University. And while this time we were in business class to London, our second leg from London to Paris was simply "Club World" on British Airways. Club World means we got to sit in the front of the plane in coach seats with a guaranteed empty seat between us. Interesting concept, this Club World Class.
We booked the Prince de Galles in Paris, a Starwood Luxury Collection hotel situated next to the Four Seasons. A fantastic location for tourists, with an exceptional concierge for any tourists' request, this hotel seemed ideal for the first four days of our Honeymoon.
Dead tired from celebrating all weekend and only a few hours of airplane sleep, we were running on adrenaline when we arrived at the Prince de Galles. We needed energy, we needed a nap, and we definitely needed food.
Paris is a city full of incredible dining everywhere you go. From our experience, it's actually a challenge to find bad food in the city. Everything we ate during our four days, from establishments with Michelin stars to unknown local brasseries, to dive bars only open late hours, everything Rachel and I consumed, was outstanding. There was not one item, literally not one, that we ordered during our four days in Paris that we didn't fully eat.
I wasn't expecting too much when I opened the in-room dining menu at the Prince de Galles, but knowing the cuisine is created by a Michelin star kitchen, I was excited to see what they had. Low-and-behold, not one club sandwich, but two club sandwiches stood out on the menu.
At $60 even, I had to try the smoked salmon club sandwich from La Scène. How could I not? Paris is a city full of smoked salmon club sandwiches, this one being outrageously expensive and meticulously crafted, so I truly expected nothing but the best.
The best was delivered in 20 minutes.
Well presented, well cut, great ratio of ingredients… La Scène's smoked salmon club sandwich from the Prince de Galles hotel was a precision-crafted meal with great attention to detail. Neither cream cheese nor smoked salmon are easy ingredients to work into a beautifully presented club, but La Scène made it look easy. Each bite was soft and flavorful with added crisp. The toasted bread and cucumber jived well balancing the creaminess of the salmon, spread, and ripe tomato.
This club sandwich won me over in the fine details. Light additions of chive, dill, and salmon eggs created subtle flavors which lingered on my taste buds; creative twists on a traditional meal.
As for the side dish – the fries – this could have been something special, but for some reason, La Scène felt a regular side of fries presented in a regular bowl is what would go best with their anything-but-regular smoked salmon club sandwich… I would disagree…
At $60, I honestly was expecting something a bit more, though. This club felt unnecessarily expensive for what it was.
While I enjoyed this club sandwich very much, the flavors weren't exciting enough to entice me to order this $60 meal a second time. Delicious, this is for sure, but the value just didn't add up for what it was.
And with that, Rachel and I were off to explore the city by foot, with dinner in a few hours at Sola, a Michelin star Japanese-French fusion restaurant. Will I have a chance to try the other club sandwich at this hotel? Only time will tell..o
Location